Better Beauty With Olive Oil? Yes!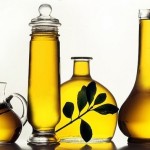 Interesting fact about turning 50: Things change surprisingly fast.

For example, everything's just a tad bit ... drier. My hair, skin, eyes and, umm, other places, too (get more info on dealing with this issue right here).

When doing research for my first book about living a healthy life after 50, I had the opportunity to pick the brains of some of the best skin care experts in the country. Most said quite simply that the keys to great skin are: exfoliate, moisturize and protect.

There is an overwhelming amount of products on the market that could handle these tasks, in different price ranges. Not one who likes to spend money unnecessarily, I managed to ply a few very inexpensive beauty secrets out of these experts. And one of the most-often mentioned products was . . . olive oil.

>> Sign up for the AARP Health Newsletter

Now, my favorite beauty "secret" (which sure wasn't a secret to the ancient Greeks or my grandmother) is using olive oil - inside and out.

Here are just a few of the reasons why olive oil is the "liquid gold" we should all have in our bathrooms for better beauty after 50:

Tip: Buy a plastic squeeze bottle (the kind you find in old-fashioned diners that hold ketchup) and fill with the finest extra-virgin olive oil you can find. Add a few drops of lavender oil for fragrance, and keep in your bathroom. Here's what you can do with it:

Dry Skin: After exfoliating your body with white sugar on a wash cloth (in the shower, take a little olive oil (infused with a few drops of lavender, if you wish) and gently massage it all over your body. Result? Skin like velvet. If your facial skin is feeling especially dry, take one drop of olive oil in your hands, and very gently tap it all over your face, making sure it doesn't look slick. Take a tissue and blot your skin just a little. You'll have skin that's soft and moist, but not greasy.
Sun Burn, Rash, Wound or Insect Bites: Gently apply a light layer of olive oil and leave uncovered. It helps with the itching and speeds up the healing. It's great for diaper rash, too.
Makeup Remover: This is the best and most gentle way to remove makeup from your face, even your eyes. Olive oil can remove the toughest waterproof mascara without harsh chemicals or soap that can irritate eyes. Allergic reactions to olive oil are practically non-existent.
Shaving: Whether shaving facial hair or your legs, putting a light layer of olive oil on damp skin first is a better option that shaving cream.
Overprocessed hair: Olive oil is the most effective hair conditioner, especially for hair that's been over-processed by coloring and blowdrying. Massage some into hair, and wrap a hot towel around it. Leave on for an hour or so, and wash as usual.
>> Get discounts on health products and services with your AARP Member Advantages.

For more tips on using olive oil for health and beauty . . . watch this:

http://youtu.be/ykMNRdI-ClE

I want to hear from you! What are some of the ways you use olive oil for better health and beauty? Share your ideas in the comments section!

Subscribe to The Best of Everything After 50 Web series on the AARP YouTube Channel! For more tips on living your best life after 50 (or 60, or 70...) check out bestofeverythingafter50.com. Find Barbara on Facebook or on Twitter at @BGrufferman.
And remember this . . . we can't control getting older . . . but . . . we can control how we do it!
Photo credit: Travelettes.net
Also of Interest


See the AARP home page for deals, savings tips, trivia and more