5 Steps to Cure Binge-and-Purge Shopping Disorder
I once had a dirty little secret. No, it wasn't an online flirtation, a crush on actor Mark Rylance (that's common knowledge) or a tendency for midnight fridge raids. It was a brief problem with BPSD, aka Binge-and-Purge Shopping Disorder, and it's why online retailers such as Amazon, Target, Sephora and Beauty.com are such a success.

Women 50 and older are the biggest buyers of online beauty and fashion. Buy, try, return, repeat is a familiar but addictive habit. The revolving door of free shipping and returns can suck up $5,000 worth of stuff in minutes.

New fall beauty products and the latest clothes are already available. So if you have a problem, it's time to break the addiction — as I did — with this five-step plan: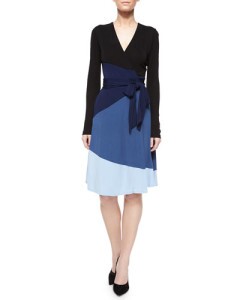 Identify your emotional triggers. For many women, beauty and fashion provide a distraction from real-life concerns such as insomnia, menopausal weight gain, an unstable job or relationship issues. What gets us shopping? For some, specific brands or items jump off the screen. For others, phrases such as "new," "just arrived," "trending now" or "gift with purchase" do the trick. These hot-button words are highly researched and planted as bait. To avoid getting hooked by them, plan your purchases. Then follow them down the markdown trail to the very end, or swear to shop sales only. My own triggers were "Donna Karan top," "silk shirts by Equipment," "exclusive" and "DVF dress" (see latter two combined above!).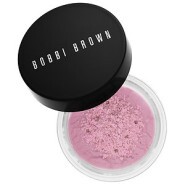 Check customer reviews. Take a look at what women who have purchased your most-wanted items have to say. Are their ratings favorable? If not, what's the problem? Did they cite a reason for a return? Sites such as Nordstrom, Bobbi Brown Cosmetics, Sephora, Amazon, Saks Fifth Avenue, drugstore.com and beauty.com offer what appear to be honest, unedited reviews, with lots of 50-plus consumer insights — both positive and negative.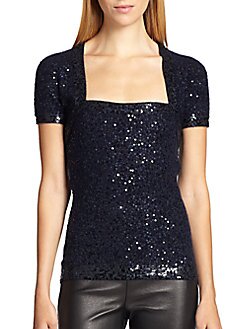 Learn to love outlets. As a snotty young editor in my 20s, 30s and 40s, I turned up my nose at discount stores such as Loehmann's. Today I find amazing bargains online at sites like Saks Off 5th, the Outnet, Farfetch, Last Call by Neiman Marcus and eBay, where designer brands and great merchandise have merged with the schlock. The thrill is a discovery for less than you ever dreamed. At saksoff5th.com, for example, I found the Donna Karan sequined top at right marked down from $1,395 to $209.98.



Analyze taste, not trends. The beauty-and-fashion business (and their online retail henchmen) have learned to prey on our anxiety about age to boost sales. That new item (or proportion, or color, or formula etc.) you don't yet have is always going to be promoted big-time, and — let's face it — it's probably always going to make your heart beat a little faster.

But if culottes and capes aren't you, just say no! Adore blue nail polish? Feel free to wear it all year long! If not, ignore it.

Budget your browsing time. Control is practically our middle name. We tally steps on Fitbit, count carbs/calories/sugar and fat grams for every bite, and tote sanitizer gel on key rings 24/7 to counteract germs.

So why not micromanage our shopping? Set dollar boundaries and time restrictions. Before you hit the "Buy" button, leave any pending purchase in your virtual shopping cart or bag for 48 hours. That last rule is non-negotiable, really: The delay forces you to consider whether you truly still want it, need it, lo-o-ove it — and can afford it!

Get discounts on hotels, airfare, car rentals and more — AARP Member Advantages. »

For more beauty and style tips for women 50-plus, check out my Wardrobe Wakeup: Your Guide to Looking Fabulous at Any Age.

Photos: neimanmarcus.com; sephora.com; saksoff5th.com; amazon.com

Also of Interest

See the AARP home page for deals, savings tips, trivia and more.