Best Quick Fix for Puffy, Dry Eyes
As I've gotten older, I've started to be tormented by some evil twins: puffy eyes and dry eyes.

These two common conditions make your eyes look irritated and anything but beautiful. But here's the good news: Both can be addressed with a few simple steps.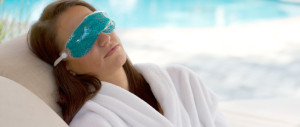 One of the best ways to deal with puffiness and dryness is to close your eyes, apply a cold compress and relax - maybe even take a nap!

>> Sign up for the AARP Health Newsletter 

As for products, the best I've found for these issues is the TheraPearl Eye Mask by Bausch + Lomb. It's inexpensive (under $10) and reusable, and it holds the cold for 20 minutes. Pop it in the freezer (for two hours), then take it out whenever you need a quick fix to relieve dry or puffy eyes. (The eye mask is a major multitasker: Use it for sinus headaches, nasal congestion, even post-Botox swelling.)

Puffy eyes can also be treated with a moisturizer made specially for the delicate eye area. (One option: CeraVe Eye Repair Cream.) Using your ring finger, pat (don't rub!) a few drops around the entire eye socket; you should be able to feel the bone with your finger. (Never apply this type of moisturizer directly under or over your lashes - that's too close to the eye.) Now gently pat the area with your fingers, as though you're playing the piano, until it is completely absorbed.

Bonus tip: Use eye cream during the day only; applied at night, it could get into the eyes, causing irritation.

Dry eyes are an even more common complaint, and sometimes only a prescription from your eye doctor can resolve the issue. But for mild cases such as mine, try these tips from New York City ophthalmologist Dr. Monica Lorenzo:



Wear sunglasses year-round to protect your orbs from the elements.
Use over-the-counter moisturizing eyedrops such as Optive or Simalsan; steer clear of those offering to "get the red out," as your eyes will only get redder in the long run.
In order not to overtax your eyes, take a computer break every 20 minutes.
Raise your desk chair slightly higher than normal; this forces your eyes to look down a bit toward the screen, letting those natrual moisturizers known as your eyelids cover a bit more of your cornea.


>> Get travel discounts with your AARP Member Advantages.

Once your eyes are clear and gorgeous again, you can try making them even more beautiful with these everyday makeup tips for women over 45:


For more tips on living your best life, look inside The Best of Everything After 50: The Experts' Guide to Style, Sex, Health, Money and More, and subscribe to The Best of Everything After 50 video series on AARP's YouTube Channel.
Photo: TheraPearl Eye Mask
Also of Interest



See the AARP home page for deals, savings tips, trivia and more