Biggest Fashion Statement of 2015 Oscars? Understatement!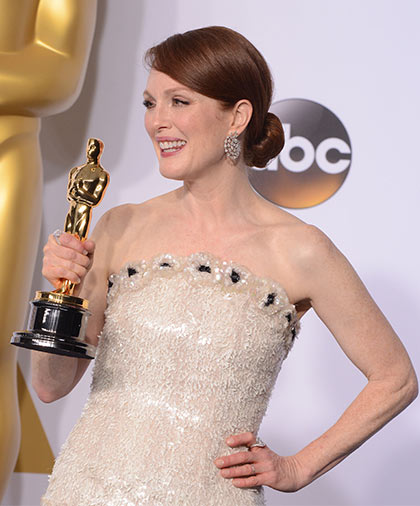 Did you notice that the biggest fashion statement at Sunday night's Oscar ceremony was understatement? No matter her age, almost every woman walking the red carpet looked respectable, not racy.

Even Lady Gaga!

We may not have been invited to the 87th annual Academy Awards, but we boomerettes still have to attend our fair share of parties, weddings and other celebrations in a typical year. As you plan what to wear to those, consider what I learned during Sunday night's Crash Course in Glam: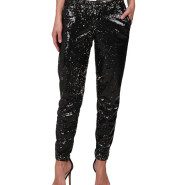 Get yourself some sparkly pants. You'll be warm. You'll be comfy. And you will sizzle.

Sequin-covered slacks seems to be having their moment right now. Shirley MacLaine went all the way with a matching spangled tank and jacket, while Milena Canonero paired hers with a black satin trenchcoat — just the thing to wear when accepting your statuette for best costume design. (I like to top my own sparkly pants with a black sweater, tunic or turtleneck.) Try H&M Sequined Leggings or CJ by Cookie Johnson Sequin Trousers.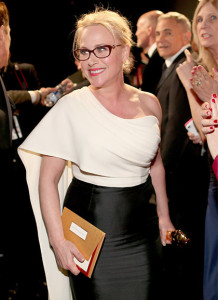 Opt for a not-uptight updo. This look saves you time — and spares you worries about rain, frizz or flat hair. Meryl Streep, Melanie Griffith and Patricia Arquette (right) all rocked variations of the updo. Before pinning it up, you can use dry shampoo or a sea-salt spray to add a little texture. Or go sleek and straight-blown with a classic knot at the nape. A flexible hairspray adds gentle control, but don't stress if pieces escape or go awry — that's all part of the look now. Try Suave Luxe Style Infusion Anti-Humidity Spray or John Frieda Luxurious Volume All-Out Hold Hairspray.

Bare your shoulders, not your boobs. You have four basic options here: 1) a strapless dress with a high bodice (the choice made by Julianne Moore, top, and Laura Dern, below); 2) a single-shoulder dress, like Patricia Arquette's; 3) an off-shoulder st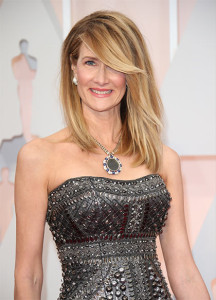 yle (both Viola Davis and Reese Witherspoon settled on this look); or 4) a high-neck sleeveless gown such as the ones sported by Rene Russo, Marion Cotillard and Cate Blanchett. Once you've made your selection, keep everything sleek and firm with some strapless shapewear. Try Spanx Slimmer & Shine Strapless Shaping Slip or TC Fine Intimates Strapless Solutions Bodybriefer.

Do a real lip color. Rose, red, pink or plum ruled at the 2015 Oscars, making a nice change from neutral lips and overdone dark, smoky eyes. Everyone from Julianne Moore to Patricia Arquette appeared to have gotten the memo on this one. Try L'Oréal Paris Infallible Pro Lip Colour in Raisin Revival or Timeless Rose or Bobbi Brown Creamy Matte Lip Color in RazzBerry or Pink Lily.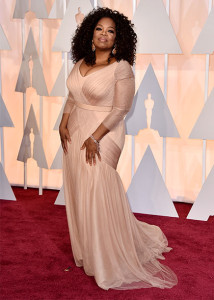 Sleeves are chic. Sleeves — from elbow length to long — are not just for mature babes anymore. Everyone from Emma Stone and Ava DuVernay to Melanie Griffith, and Meryl Streep exercised their right not to bare arms. While Meryl chose a classy, tailored tuxedo jacket paired with a long, slim black skirt, Oprah (right) went with sheer sleeves on her feminine rosy Vera Wang gown that was draped to shape.

>> Get AARP discounts on health services.

Let's pause for a quick moment here to give thanks that red-carpet photographers no longer pan women's bodies up and down, and that — thanks to activists such as Arquette and her acceptance speech on income parity for women — the conversation finally seems to be shifting from "Who are you wearing?" to "What are you working on?" Bravissima, ladies!

For more beauty and style tips for women 50 and better, check out my Wardrobe Wakeup: Your Guide to Looking Fabulous at Any Age.

Photos: Getty Images (Moore); zappos.com; Getty Images (Arquette, Dern); Associated Press (Winfrey).

Also of Interest



See the AARP home page for deals, savings tips, trivia and more