Blemishes After 50? 5 Fixes To Prevent Panic
By Lois Joy Johnson , September 25, 2013 02:14 PM
When your wrinkles and brown spots get side-swiped by zits, skip the temptation to squeeze or tan. You can't pop, dry out or camouflage breakouts that way anymore. Breakouts after 50 are nightmare-ish whether you have an occasional bump or a teenage acne flashback. I consulted Dr. Susan Taylor, a top dermatologist in private practice at Society Hill Dermatology in Philadelphia about the best treatments and added some cover-up makeup advice. Here's how to get your oldie-but-goodie skin on track: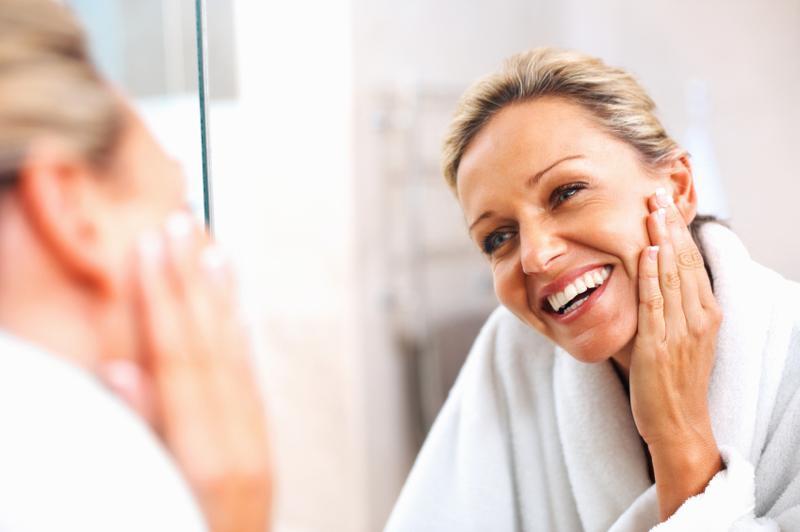 IS IT ACNE OR A REACTION? We love trying new skin care de-agers and makeup but the question is always, "Will this make me break out? " If you think a new serum, cream or foundation are behind your breakouts, you may be right. Taylor says, "A sensitivity reaction results in small red itchy bumps, while hormonal pimples typically crop up along the jawline and don't itch." And, Taylor says, "Stress is a huge factor in adult acne," but adds, "so are medications like lithium, steroids, phenytoin (dilantin for seizures), vitamins B2, 6 and 12, and polycystic ovarian disease." Unsure of the cause ? Get a doctor's diagnosis.
GET A PRESCRIPTION FOR SERIOUS BLEMISHES. If breakouts are severe or persistent you need a prescription drug. Taylor says Dapsone (Aczone is the brand name) in a 5% concentration is effective, gentle and less drying than other agents but also recommends prescription retinoids like "Ziana Gel ( combining clindamycin and tretinoin) or Retin-A Micro at the low 0.04% concentration to treat wrinkles and acne simultaneously." Ask your dermatologist which is right for you.
AVOID DRUGSTORE ACNE KITS DESIGNED FOR TEENS. Hormonal fluctuations before, during or after menopause can promote breakouts but sluggish cell turnover and clogged pore flare-ups are inevitable. Do a better job of cleansing, exfoliating and removing makeup at night but choose products that won't strip moisture or exacerbate sensitivity. Then replenish moisture. Taylor advises, "Avoid too many oils and botanical butters but hydrate with products containing lipids and ceramides like Neova DNA Barrier Accelerator ($105, neova.com)." I'd suggest options like CeraVe Facial Moisturizing Lotion P. M. ($12.99, cvs.com) and Elizabeth Arden Ceramide Capsules Daily Youth Restoring Serum ($72, elizabetharden.com) too .
USE OTC SPOT TREATMENTS FOR OCCASIONAL ZITS. Target isolated blemishes with salicylic acid or benzoyl peroxide. Salicylic acid is a beta hydroxy acid so it's an exfoliant and works well for sensitive skin, whiteheads or blackheads. Benzoyl peroxide kills bacteria that cause blemishes and is great for red, inflamed pus-filled blemishes (like those you want to squeeze.) Try : Clean & Clear Persa-Gel10 Maximum Strength ($5.99, drugstore.com) with 10% benzoyl peroxide or Boots No7 Beautiful Skin Rapid Spot Rescue with 2% salicylic acid ($11.99, drugstore.com).
COVER BLEMISHED SKIN LIKE A PRO. Use a light semi-matte full-coverage liquid foundation on broad blemished areas like cheeks or chin. This is not the time for a tinted moisturizer, BB or CC cream. Dab individual spots with an opaque concealer using a small clean concealer brush for accuracy. Try Neutrogena Shine Control Liquid Makeup ($12.99, neutrogena.com) and Make Up For Ever HD Invisible Cover Foundation ($42, sephora.com).
And for extra confidence divert attention away from troubled spots with powered up eye makeup and bangs. It never fails!
For more beauty & style tips for women 50-plus read my book The Wardrobe Wakeup, Your Guide to Looking Fabulous at Any Age by Lois Joy Johnson ($15.79, amazon.com).
Also of Interest

See the AARP home page for deals, savings tips, trivia and more