Diane Keaton Has 7 Ways to Age With Attitude
Diane Keaton's new mem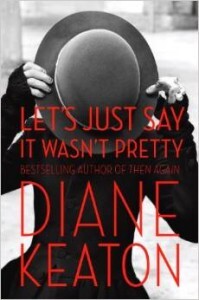 oir, Let's Just Say It Wasn't Pretty (Random House), is like reading your best friend's diary.
Provided your BFF is a famously funny actress, of course.
Up close, I found out when I interviewed the 68-year-old star in New York City last week, Keaton, a L'Oreal Paris spokesmodel, is attractive, scarily smart and a complex mix of confident and quirky. I scrambled to keep pace as she covered all sorts of fashion and beauty topics related to age, style, cosmetic surgery and her looks.
1. Age is a leveling experience. "I think men and women over 50 talk about aging to their friends all the time now," says Keaton. "It's a hot topic. The overall trick is to stay curious, energized and engaged, and to let go of your concerns as much as possible. You want to look outward more, instead of inward so much. Oh, and never look back!"
>> Sign up for the AARP Health Newsletter 
2. You needn't be natural to be authentic. "If I wanted to be prettier, fillers, Botox and a neck lift might help - but I think I'm past all that. My feelings come out in my face and show who I am inside in ways that words can't express. In fact I'm confused by what 'authentic' is; am I less authentic because I wear 'eccentric' clothes and hats? No. I look at my contemporaries who have had 'good work' done; are they less authentic? No! And neither are the women who've had procedures that went awry.
3. My hair is my hat (and my hat is my hair). "I'm trying to wear hats less often these days," says Keaton, "but I usually wear berets or bowlers to hide my Spock ears and thinning hair. I've let the dyed blond grow out to gray, and I like it. All I want is no alopecia, no female-pattern baldness and enough hair to last a lifetime. I think I've got it, though for days like today - an event and a photo shoot - stylists add extensions. Those hurt! And removing them takes even longer than putting them in - not fun."
4. Make your flaws work for you. "Beauty requires depth, but it's also about survival and acceptance. As a kid, I slept with a clothespin on my nose to try to reshape the bulbous tip. I still hate my nose and the tip, just not as much. I have my dad's unusual sloped eyes, and they've gotten droopier with time. But they see everything just fine - and blue tinted glasses work wonders."
5. Vanity is all about healthy skin. "My California-girl past and skin-cancer history require monthly visits to the dermatologist to freeze off keratoses and check up on things. Thanks to those basal- and squamous-cell skin cancers, I never skip sunscreen; a broad-spectrum SPF 30 is in my pocket every day.
>> Get entertainment and dining discounts with your AARP Member Advantages.
6. Shoes are therapy. "Save all your shoes! Like music, they take you back to certain moments, people and memories. I have all of mine: Fryes, Tony Lama cowboy boots, men's lace-ups, platforms, biker boots and my favorite 7-inch Christian Louboutin heels. And though my podiatrist says those days are over, the beach girl in me still loves going barefoot. So paint those toenails ... sticker them up ... and don't shy away from toe rings and ankle bracelets either. Celebrate!"
7. Turtlenecks and belts will change your life. "Two of my wardrobe basics - fitted turtlenecks and wide 4-inch belts - are highly underrated. First of all, turtles hide everything and frame your head perfectly. My secret is to buy shirt stays and sew them at both side seams to prevent sag. Belted coats are my signature; a good belt gives you a shape and a waist, no matter what's going on with your body. It saves me every time."
For more beauty and style tips for women 50+, check out my Wardrobe Wakeup: Your Guide to Looking Fabulous at Any Age.
Photo credit: Jacket photo of Let's Just Say It Wasn't Pretty by Ruven Afanador.
Also of Interest

See the AARP home page for deals, savings tips, trivia and more