Father's Day Gift Ideas
By Dian Holton, June 14, 2013 06:32 PM
In a few days Father's Day (June 16) will be here. You still may be sure what to get dear ol' dad or you're pondering what you've already selected. Because no one has ever really admitted that shopping for Pops was easy, I've decided to help you skip aimlessly wandering in the mall by directing you to a few fashionable and novelty gift items that I'm sure he'd love.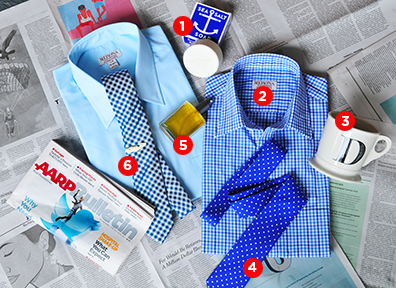 THE DAPPER DAD

1 | Swedish Dream Sea Salt ($6; West Elm) This mineral rich soap is perfect for shaving and bathing.

2 | Aqua Patterned Dress Shirt and Blue Plaid Dress Shirt ($22.99 each; Target) Every man could use a few of these basics in his closet or stashed away in his luggage.

3 | Monogrammed Mug ($8, Anthropologie) Great gift for the dad who wants to lay claim to his drinks.

4 | Polka-Dotted Silk Tie and Gingham Silk Tie ($59.50 each; Banana Republic) Don't settle for a boring tie; give him one that's bold and graphic.

5 | Pure-formance Men's Aroma Spray ($42; Aveda) The fragrance aficionado will enjoy Aveda's signature scent comprised of kunzea, citrus and certified organic essential oils of spearmint, vetiver and lavender.

6 | Whale Tie Clip ($45; J.Crew) Looking to add a little whimsy to his ties? Try this tie clip in crème or black.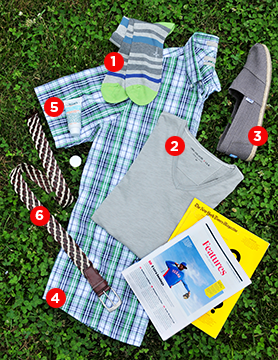 THE COOL, CALM AND COLLECTED DAD

1 | Ash Freetown Classics ($54; Toms.com) Encourage Pops to be charitable. Let him know that for every shoe that is purchased, a pair is sent to a child in need.

2 | Green Plaid Seersucker Shirt ($49.50; Nordstrom) Combine his love for plaid and your love of summer textures with this graphic number.

3 | Striped Socks ($12.50; Cole Haan) Step up his foot game with a contemporary pair of socks.

4 | Superbly Efficient Anti-Perspirant and Deodorant ($16; Kiehl's) For the man who prefers an unscented deodorant that lasts up to 24 hours and has a penchant for orange, lemon and linseed.

5 | Slub V-Neck Knit Tee ($69.50; John Varvatos) A pick stitch tee in a lightweight cotton is a nice complement to your dad's favorite jeans or khakis.

6 | Belt ($36; Nike) Give his wardrobe a little flair with this braided, woven leather belt.

Styling by Dian Holton. Photography by Nicole Crowder .

Feel Great. Have Fun. Be Stylish. What's the best Father's Day gift you've ever given? Share in the comment box below. Also follow Dian on Twitter.