Feeling Invisible? Five Ways to Fix That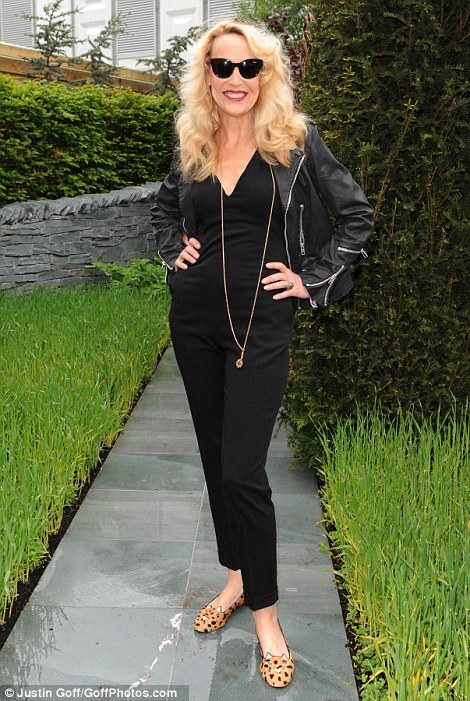 Despite a turbocharged life and plenty of charisma, lots of women 50-plus say they no longer get second glances - or even eye contact - from men. They feel "invisible." We don't necessarily want to be cougars, dabble in extramarital affairs or even play around online. We just miss the brief boost of a face-to-face appreciative look. For some of us, second glances as we strolled down a street used to be routine. Now, nothing.
I think the lack of attention we're feeling has more to do with our love of comfort than chronological age. We adore cozy - anything soft, stretchy, layered, laid-back and relaxed. But here's the catch: What feels good doesn't always show our finer points. Here are five ways to have your "comfy" with confidence and start turning heads again:
1. APPLY SOME MAKEUP. You don't need the works. You can look healthier, more youthful and attractive in five minutes or less. Blend on a BB & CC (beauty balm and color control) cream to moisturize, blur lines and discolorations and add broad spectrum sun protection. Dab cream blush on your cheekbones for glow. Last, swipe on a chunky lip pencil to enhance your smile. Choose a color that adds warmth and energy to your face like pink, rose, apricot or red. Try L' Oreal Paris Visible Lift CC Cream ($12.95, lorealparisusa.com), L' Oreal Paris Magic Smooth Souffle Blush ($12.95, lorealparisusa.com), Revlon Just Bitten Kissable Balm Stain ($8.99, ulta.com) and Sally Hansen Colorfast Tint+ Moisture Balm ($4.99, ulta.com). Jerry Hall, 57, above left, has the idea.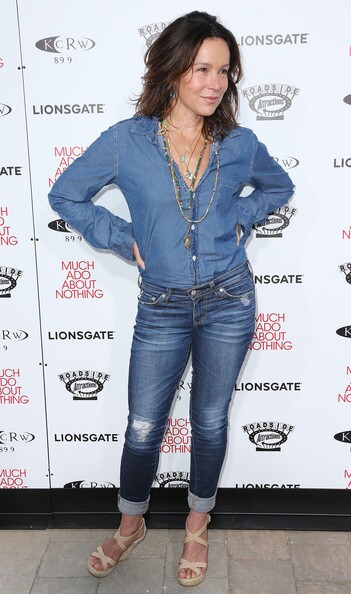 2. REFRESH YOUR HAIR. Make a one-minute effort before leaving the house. Revive your 'do with a dry shampoo. Bend at the waist, mist underside and roots, then use your fingers and a 10-second blast of your blow-dryer to reactivate volume and layers.
3. LAYER THE LEAN WAY. Stick to stretch but go public in skinny/narrow fitted jeans or trim ankle-cropped pants like Jerry. Use this sleek base to layer up your favorite blend of tanks, tees, soft shirts, slouchy sweaters (all with slimming and elongating V necks, please) and jackets. Leave the sweats and wide-leg jeans at home.
4. STAY GLAM. Show your spirit and self-esteem with polished nails, great shoes and a statement necklace. These three items add flaunt appeal at 50 and are attention-getting details that matter. Wedges deliver a stress-free leggy look, while jeweled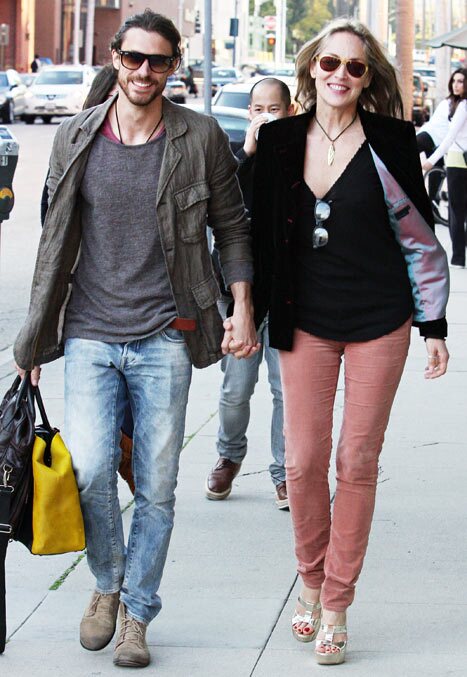 or animal-print flats ground you with flair. Jennifer Grey, 53, left, makes comfy look appealing and easy.
5. KEEP THEM GUESSING. Sunglasses guarantee glances, too. Simple aviator styles or bold black frames radiate quiet sex appeal and allow you to skip eye makeup. Just keep the lines of communication open with light green or grey lenses or lift dark shades to peek back and wink. Work it like Sharon Stone, 54, right.
For more beauty and style tips for women 50-plus, read my book: The Wardrobe Wakeup, Your Guide to Looking Fabulous at Any Age by Lois Joy Johnson ($16.29, amazon.com).
Photo credits:
Jerry Hall: www.dailymail.co.uk
Jennifer Grey: www.zimbio.com
Sharon Stone and boyfriend: www.usmagazine.com