Is Your Hair Color Aging You? Make It Stop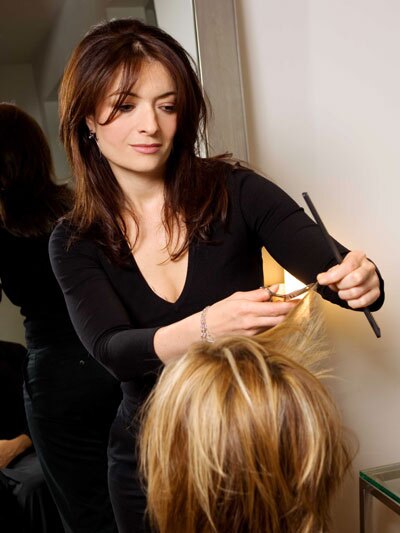 When women 50-plus start piling on self-tanner, blush and a brighter lipstick it means one thing : your hair color is all wrong. So says New York colorist, hair stylist and beauty expert Eva Scrivo, the savior of savvy CEOS, media personalities and grownup everyday women who mob her Bond Street and Upper East Side salons. Scrivo and I shared de-aging hair color tips in an exclusive AARP interview last week. Here are five things to rethink ASAP:
TIME TO SWITCH FROM BOX TO SALON COLOR ? Consider this an investment move. Only an experienced pro has the chops to evaluate, repair and update color on thinning, damaged, dry, frizz-prone, weak hair. This is not a DIY project. Scrivo says, "Lots of women 50-plus are starting a new job, lifestyle or relationship now. Hair color that washes you out, looks too fake or too dark adds years to your looks and emphasizes wrinkles and pigmentation issues. Only a pro knows, for example, that women with rosacea benefit from cooler hair tones or that women who have tired skin need warmer colors."
BE SURE YOUR SALON USES A DE-AGING BRAND MADE FOR US. Not all
professional brands and formulas are the same and few focus on the problems of aging hair. Scrivo says " A non-ammonia oil-based permanent grey-covering salon formula like L' Oreal Professionnel INOA Supreme is designed specifically for women 50 and older to thicken, boost hydration, and restore a healthy look. "It's similar to de-aging makeup since the emphasis is on treatment and color. This brand uses nourishing repair ingredients we recognize from skin care like hyaluronic acid and lipids. It also contains multi-dimensional light reflectors (just like our foundation) for a shinier, more youthful look with the first application. Find local salons carrying it at lpsalons.com.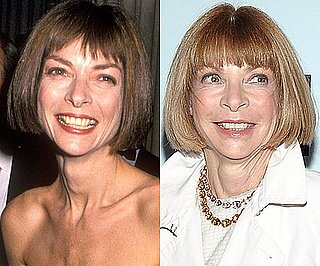 MAKE HAIR COLOR CHANGES SLOWLY. Some women decide at 50 to go back to their natural color after years of being blonde. Others crave a dramtic new color. Scrivo says, "Either way a gradual transformation over several salon visits is safer for your hair and lets you get used to and control the degree of change. A major color correction (such as) if your hair is over-bleached and highlighted or too dark and matte takes time." Stay the course. I personally love the gradual way Anna Wintour slid from brunette to blonder.
TRY PAINT ON HIGHLIGHTS. Highlights and lowlights add light and dark dimension to your base color. They make thinning hair seem fuller and add the illusion of movement. Scrivo prefers a brush on technique called balayage to foils and says "painting irregular thick and thin highlights looks more natural than the precision of foils and regrowth at the roots is softer." Even rich brunettes look great with
lights; check out CNBC's Maria Bartiromo's caramel ones.
USE STYLING TRICKS TO STRETCH SALON VISITS. Cost is on everyone's mind. To extend time between appointments, Scrivo says,"Vary your part slightly and scramble it - no straight lines. Create extra volume at the roots so they are less obvious, and use sulfate-free products - especially ones boosted with botanical oils." Try L' Oreal Professionnel INOAColor Care ( $25-33, at L' Oreal Professionnel salons ).
So chums, stop bingeing on shoes and bags and put your money in your hair. It's your 24/7 accessory.
For more beauty & style tips for women 50-plus read my book The Wardrobe Wakeup, Your Guide to Looking Fabulous at Any Age by Lois Joy Johnson ( $16.29, amazon.com).
Photo credits :
Eva Scrivo at work in her salon: www.allure.com
Eva Scrivo and Lois Joy Johnson interview: evascrivosalon.com
Anna Wintour: www.bellasugar.com
Maria Bartiromo: www.womansday.com
Also of Interest

Join AARP: Savings, resources and news for your well-being
See the AARP home page for deals, savings tips, trivia and more