Leave Turkey Neck to the Birds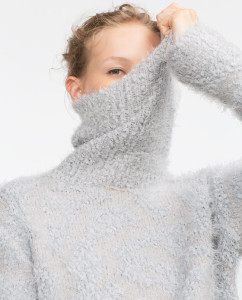 When I'm not snapping the loose skin of my inner elbows or watching my upper arms jiggle in a sleeveless dress, you might find me anxiously scrutinizing my profile in my car's rearview mirror. (Don't worry — I pull over first.)

Yes, Tech Neck — formerly known as Turkey-Wattle Syndrome — has struck.

Its cause: Looking down all day long at that stupid screen that has taken over your life, doubling your chins and turning the skin on your neck lax and wrinkly.

Its consequence: The dangly bits beneath my chin and my creepy-crepey neck now demand daily camouflage, which I tend to furnish with a hastily thrown-on scarf.

Get discounts on hotels, airfare, car rentals and more — AARP Member Advantages. »

Plastic surgery, of course, might solve my predicament. But how long do you think that would last? For those in search of a less radical solution, here are five ways you and I can "neck-scape."

Hide out i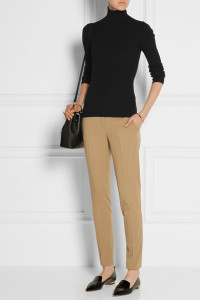 n turtlenecks. Diane Keaton was merely following the Hepburns' lead — Kate and Audrey, that is — when she made this item her sartorial signature.

The turtleneck is super-trendy right now, so feel free to indulge in slim, ribbed styles or perhaps an oversize sweater topped off by a giant turtle. All look chic with skirts from pencil to pleats, with pants from slouchy-wide to slim or with everyday jeans. And because there's no hard-and-fast neckline rule, you can scrunch down a turtleneck or fold it over, with no need for a scarf.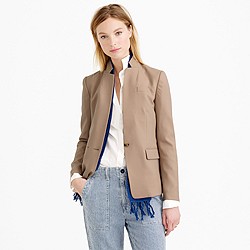 Pop it to block it. WWMBD? (What Would Murphy Brown Do?) She would turn that collar straight up, as Candice Bergen's powerhouse character did for five years on the famous sitcom. Now this fashion fetish has boomeranged back into style, so flipping a crisp white shirt and blazer collar up is roguish, not wrong. This move also slims your neck, creating a firm, taut line (fashionably speaking) from chin to shoulder.

Drape it in a cowl. The looser folds of a cowl provide a graceful frame rather than full coverage. The more weight and drape the cowl has, of course, the more dramatic the effect will be, but you can always count on creating a chic diversion.

Some cowls are so voluminous that they gather in folds to mid-chest, double as hoods or can be slipped off the shoulders in a cuff for evenings out. For a dose of holiday glam, pair any statement cowl with a pair of velvet jeans or leggings, then add booties.

Treat your neck and face together. Many women lavish cream and sunscreen on their faces but neglect their necks. Don't make that mistake; apply the same hydrating, line-plumping, spot-fading, collagen-boosting cleansers, serums and creams from hairline to collarbone — and right down to your bra, enabling your chest to reap the benefits, too.

A separate neck cream isn't necessary. But if a guilty splurge is the push you need to protect and repair your skin there, go for it! Because the skin on our necks is relatively thin, it should respond well to hyaluronic acid, vitamin C, botanical extracts and peptides. Be cautious with retinols, however; they are notorious precipitators of sensitivity. Among the wide range of products available for this sort of treatment are L'Oréal Paris Age Perfect Hydra-Nutrition Face, Neck & Chest Golden Balm or Christie Brinkley Authentic Skincare Uplift + IR Defense Firming Neck and Décolleté Treatment.

Consider a dermatological dodge. Not thrilled about going under the knife? This year the FDA approved a new injectable, called Kybella, that gives you an alternative to liposuction or cosmetic surgery. According to the FDA, it has the same effect as the deoxycholic acid that your body produces naturally to help absorb fats. When injected into the fat of a double chin, it can destroy those fat cells; however, the agency warns, Kybella can also destroy skin cells (Urk!) if it gets injected into them by mistake, and the government agency has approved its use for submental (beneath-the-chin) areas only.

How would you put $10,000 to work? Sharpen your job skills and enter for a chance to win the big prize! Ends 1/31/16. No purchase necessary. See official rules »

"Depending on your degree of under-chin fat," says Miami dermatologist Leslie Baumann, "two to four treatments, each spaced at least a month apart, may give you a slimmer profile."

More beauty and style tips for women 50-plus are on their way in AARP's new digital magazine, due out in December.

Photos: zara.com; net-a-porter.com, jcrew.com; chicos.com

Also of Interest

See the AARP home page for deals, savings tips, trivia and more.