Look Hot for the Holidays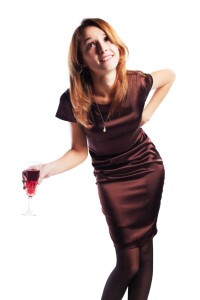 'Tis the season of opportunity - a time when festivities that require you to mingle (ack!) likewise give you a chance to:
a) Find things (a lead to your next job; a new spin-class buddy; the love of your life);
b) Explore a new interest (wine-tasting? catering?); or
c) Volunteer for a worthy cause in your community.
Yes, holiday socializing involves a leave of absence from ankle pants, jeans and layers, but not to worry - our favorite TV "girlfriends" (Wendy Williams, Gayle King, Kathie Lee Gifford and Hoda Kotb) have come up with a foolproof five-point plan: shapely dresses, standout colors, heels, lashes and bling. See which of their tips speak to you:
Pare pounds with a tailored dress. A structured dress can reshape your body profile. The more structured the dress, the sharper and slimmer you look. A tailored sheath - sleeveless or with narrow fitted sleeves - can make you appear sophisticated and subtly sexy. It shows off your shape but glides over "trouble spots." To stylishly disguise extra pounds, select tailored A-line or fit-and-flare styles; draped or color-blocked sheaths; and peplum styles. And, of course, get your Spanx on first for bloat control.
>> Sign up for the AARP Leisure Newsletter
Red is the new black. The choice should be obvious between "Black makes me look thin" and "Red makes me look happy and vibrant." As TV talkers have learned, bold colors flatter mature skin tones; they keep the focus on you, not your studio (or party!) guests. Bright colors - reds, roses, pinks, corals and oranges - make you stand out in a crowd. (They can also warm up a dry, pasty or blotchy complexion.) Best of all, they project energy - a fast fix when you're stressed or tired.
Sport high-ish heels. 4-inch stilettos are fine for those who never have to venture from the anchor's chair. For the rest of us, 1- to 2-inch heels should provide plenty of lift. Keep the toes tapered, and choose a nude hue that matches your skin tone. Nude patent pumps or booties work with every dress and bag you own. Try Isaac Mizrahi New York Gabriel 3 or Stuart Weitzman Poco (zappos.com).
Wear falsies. Uh, false lashes, that is; they add oomph to saggy eyes or wrinkled lids without putting you through an elaborate makeup routine. The newest full strips are user-friendly, realistic, easy to apply and undetectable. Add them after liner and mascara to the very base of your lashes. And never say "Never" until you've tried Kiss EverEz Lashes with Kiss Ever Ez Strip Eyelash Adhesive (drugstore.com).
Bring the bling. Chunky, sparkly faux necklaces or dramatic drop earrings light up your face. In so doing, they soften lines and wrinkles. Yes, there's a time for delicate studs and fine-link chains, but guess what? This winter holidays ain't that time. Try a Tiered Gem Collar or Primary Aztec Drops, both from baublebar.com.
Armored with these five tips, you can leave home feeling confident, curvaceous and chic!
For more beauty and style tips, see The Wardrobe Wakeup: Your Guide to Looking Fabulous at Any Age.
Photo credit: a-wrangler/iStockphoto
>> Get travel discounts with your AARP Member Advantages.
Also of Interest

See the AARP home page for deals, savings tips, trivia and more