Oh, Grow Up! Four Ways to Fight Ageism
Fuming fashionistas and bitter beauties, I feel your pain.
Yes, it's 2014 and ageism continues to plague the fashion industry. Older women may be driving much of today's growth in social media and online shopping, but I dare you to find a single model who resembles us on any major retail site. (We do pop up in commercials and ads for sexual dysfunction, diets, probiotics and luxury cruises - big whoop!)
A few forward-looking companies are bucking the trend. So bravo to L'Oreal Paris for using Diane Keaton (age 68), Andie MacDowell (56) and Julianne Moore (53); to NARS Cosmetics for signing Charlotte Rampling (68); and to Marc Jacobs Beauty for featuring Jessica Lange (65). These businesses have perceived the sex appeal - and the spending power - of our demographic, but the basic problem remains: The likes of us are invisible on the very sites where we like to shop.
>> Get travel discounts with your AARP Member Advantages.
In a society that has taken such enormous strides to redress ethnicity, weight and gender biases, can't we finally make age a part of the "diversity landscape," too? Here are four ideas to help bring that about: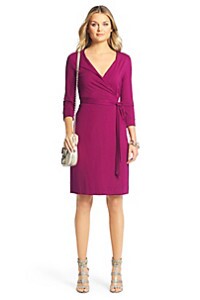 Shop sites that acknowledge our existence. Some clearly want us to stop and shop. Designer Diane Von Furstenberg, for example, now depicts her jersey dresses in two lengths: mini for those who can still pull off that look, knee-length for the rest of us. A good example is her New Julian Two Jersey Wrap Dress, shown at left (dvf.com). Banana Republic, Lands' End and Ann Taylor all stock dresses, tops and embellished cardigans with both elbow-length and 3/4-length sleeves year-round because they know we will buy them. (The same goes for slim ankle pants with stretch and a higher rise.)
And we love the comfort-driven heel-height checklist on Zappos.com, but c'mon - can't some savvy creative director let those models age a bit? Would it be too much to show women 50-plus in dresses and jeans, swimsuits and bras? Hey - just askin'!
Applaud "peer" shopping reviews. Read customer reviews to see what sort of products your peers are currently buying and liking. Write your own assessments, too. The websites of Nordstrom, Saks Fifth Avenue, Lands' End and Sephora cite customer ages alongside critiques. Check the "Helpful" box next to these, or leave positive comments and mention your age in your reviews (even when - no, especially when - you're not prompted to do so). Suggest that clothing items be displayed by models clearly over 50. Or go on a brand's Facebook page (as I recently did with Neiman Marcus) and vent.
The goal of all this agitation? To alert marketing teams that 50-plus women are engaged, interested and browsing. The more interactive and outspoken we become as a group, the better our chances are to effect change.
>> Sign up for the AARP Health Newsletter 
Lobby fashion retailers to hire more models our age. Fifty seems to be the age when celebs shilling luxury brands fall off a cliff. Nicole Kidman (for Jimmy Choo) is 47; Julia Roberts (Lancí´me) and Carla Bruni-Sarkozy (Bulgari) are 46; and Jennifer Aniston (Living Proof) is a kittenish 45. But wouldn't an elderbabe like Helen Mirren (68) inspire you to buy eye makeup? How about the smashing Susan Sarandon (67) hawking La Perla, Gottex or Gucci? Or chicsters Kim Cattrall (57) or Angela Bassett (55) promoting J. Crew, Chanel or Stuart Weitzman? Tweet up a storm about it!
Follow pro makeup videos that get it right. The Web is awash in bad-advice videos from women who aren't beauty experts, so patronize the ladies who know their stuff. Last year on the Today show, for example, British makeup artist Lisa Eldridge did a makeup tutorial for seniors that went viral. ( "Menopause Makeup Tips" on her site likewise contains smart tips and product suggestions.) Yes, Eldridge makes up major celebrities and works for Vogue, but she also loves talking to women over 50. Pass it on!
For more beauty and fashion tips, check out my Makeup Wakeup: Revitalizing Your Look at Any Age.
Photo: dvf.com
Also of Interest

See the AARP home page for deals, savings tips, trivia and more