Study Proves Women Over 50 Have the Biggest Hearts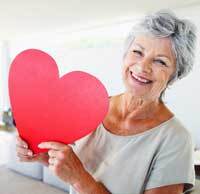 It's the holiday season: a time of year when most of us think more about giving than receiving. And of all the demographic groups, which one do you think gives the most?

If your answer is "American women over 50," you're right. A recent study shows that our hearts just might get bigger with each passing year.

The stunning study - Women Give 2012 -was conducted by the Women's Philanthropy Institute at the Center on Philanthropy at Indiana University.

Debra J. Mesch, Ph.D., director of the Institute, said:

"Although some may have concerns about their financial security, our study suggests that Boomer and older women share their resources with others more generously than their male peers. Additionally, women's strong networks may keep them more connected to both the needs of others and to opportunities to give."

In fact, according to the study, which was comprised of the responses of 1,109 male and female single-headed households of baby boomers, female baby boomers give a whopping 89 percent more of their income compared to households run by baby boomer males. Are we amazing, or what?

But why, you might be asking yourself, would a woman who could take that money (or part of it) and pay for some fab new shoes or a trip to Paris, instead give it to a charitable cause? According to the experts, there a few reasons including:

We're programmed to take care of kids, husbands, friends, parents, the world, so why wouldn't we keep on giving?
Women are more empathetic and can get more easily moved into action
Men generally view charitable giving as a financial transaction, thinking about the tax write-off, whereas women are thinking about changing the world
Women often get involved with and support (or event start) charities when they've had a personal experience connected to the charity (breast cancer, for example)
Women are better at networking than men and the proliferation of social media has helped us to share information and stories related to charitable giving more easily, which is why the women's philanthropic movement has been growing since the 1990s
We're also super cool
As a boomer babe, I was so proud to read the report and know that I am part of a huge (and growing) demographic that has a huge heart.

Do you give to charitable causes? And if so, why?

 For more tips on living your best life after 50 (or 60, or 70...) check out "The Best of Everything After 50: The Experts' Guide to Style, Sex, Health, Money and More" and www.bestofeverythingafter50.com. Keep me posted on how you're doing by subscribing to me on Facebook and "tweeting" me on Twitter at @BGrufferman.