Sweat Your Way to Younger-Looking Skin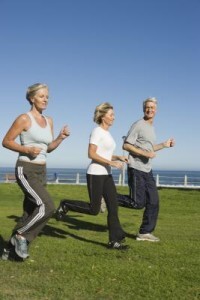 By now we're all familiar with the golden rules for keeping our skin from aging prematurely: Use sunscreen (at least 30 SPF), exfoliate, moisturize, use a retinol product, get enough sleep, eat well and don't drink too much alcohol.

Now it turns out that regular exercise might be as helpful to keeping skin from aging as it is to keeping the body youthful.

A New York Times report about a recent study stopped me in my tracks - literally. I was on a short run with a friend when she excitedly told me about research that was presented at the American Medical Society for Sports Medicine meeting.

>> Sign up for the AARP Health Newsletter

It showed how a moderate exercise program can change the composition of skin. Times blogger Gretchen Reynolds wrote about what happened to the skin of those study participants who were part of the exercise group:

The volunteers were aged at 65 or older and, at the study's start, had normal skin for their age. They began a fairly straightforward endurance training program, working out twice a week by jogging or cycling at a moderately strenuous pace, equivalent to at least 65 percent of their maximum aerobic capacity for 30 minutes. This continued for three months. At the end of that time, the researchers again biopsied the volunteers' skin. But now the samples looked quite different, with outer and inner layers that looked very similar to those of 20- to 40-year-olds.

>> Get travel discounts with your AARP Member Advantages.

There's a wealth of research out there that shows that regularly moving your body is good for you. This new evidence gives us even more reason to exercise - and it's certainly less expensive than fancy face creams. Need a little push to get started? Check out this video from the "Best of Everything After 50" series on the AARP YouTube Channel:


Until next time, remember this: We can't control getting older . . . but . . . we can control how we do it!
For more tips on living your best life, check out my book The Best of Everything After 50: The Experts' Guide to Style, Sex, Health, Money and More, and subscribe to The Best of Everything After 50 video series on the AARP YouTube Channel.


Also of Interest



See the AARP home page for deals, savings tips, trivia and more