Tattoos Over 50: Awesome or Awful?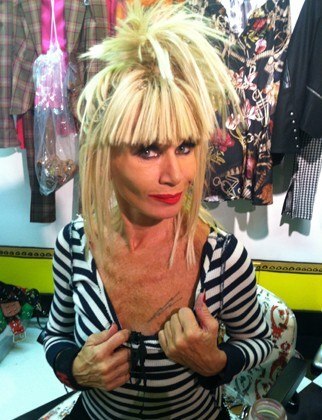 Fashion designer Betsey Johnson, age 70, got her cartoon-esque, lightning bolt chest tattoo way back in 1974. However, it wasn't until Melanie Griffith inked a heart labeled Antonio on her right bicep in 2000 at age 42 that body art for grown-up girls became the edgy thing to do. Susan Sarandon inked her kids initials on her neck and upper back and Helen Mirren has a tiny doo-dad on her left hand. Let's be honest though; lots of women 50+ still think any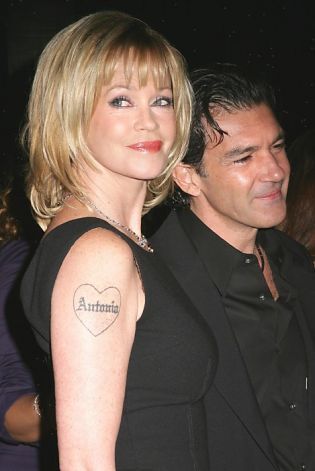 kind of tattoo is tacky (even on guys). Others love the mystery of a tiny permanent bracelet on their ankle or wrist, a cluster of stars on a foot or an inspirational phrase winding down their spine. Some older babes regret getting tattoos as their weight, lifestyle, looks or skin texture change. If you're considering a tattoo, read this first:

THINK DISCREET, LONG TERM AND CLASSY. The tattoo process is painful and permanent and laser removal if you change your mind is no party either. Don't decorate where you tend to gain weight or have saggy flabby skin. Skip your belly,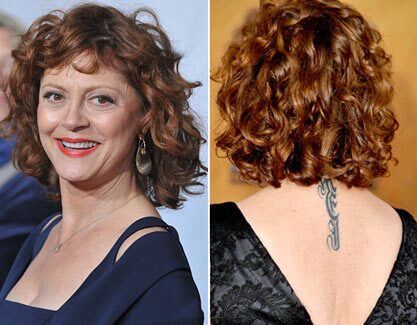 decolletage, upper arms and derriere. Wrists, ankles, hip bones, spine, the top of your shoulders or back of your neck are safer bets and easier to hide under clothes, hair or jewelry. But do your homework. Make sure your artist has a license, a spotless work environment and excellent references from women you know and a refined hand. No exotic tattoos on vacation (infection and hepatitis C can be a reality), no new soul-mate initials (relationships may not be forever), no splashy body murals that compete with brown spots, wrinkles and broken capillaries for attention, and no tats more colorful than our hair, makeup and nail polish!

DO PERMANENT MAKEUP VERRRRY CAREFULLY. Permanent makeup is a micro-pigment form of facial tattooing and trending up in our demo. Celebs like Dolly Parton and Raquel Welch are rumored to be fans. Yes, waking up every day with perfectly full brows, crisply defined eyes and shapely lips tinted a youthful pinky-tan sounds appealing but, few technicians are masters of this tricky art. The good news is that brow, eye and lip tattoos are being offered as optional procedures at top dermatology and cosmetic surgery practices, so ask your doctors (not your waxing lady) for advice. You'll need a patch test first to rule out sensitivity and time away from Retin-A, facials and contacts (if you choose eye liner). Dyes take weeks to settle into their real color and will look much darker at first. Choose shades that enhance your natural coloring and just strengthen your features. The skin surrounding "the work" may appear shiny, red, puffy and the procedure isn't pain-free (it feels like pricking a sunburn). If you choose to do permanent makeup, it's best to get it done during a stay-cation.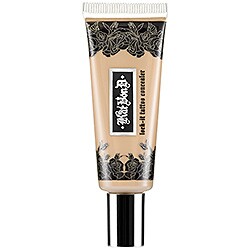 OOPS! YOU CHANGED YOUR MIND. Some tats are harder to remove depending on size, color, location, age of your ink and your skin tone. Try a temporary tattoo for a test run. Laser is the way to go for removal but don't expect a one-day miracle. Repeat sessions are necessary. To cover a tattoo with makeup you'll need an opaque matte waterproof concealer designed for the job. Try Kat Von D Lock-It Tattoo Concealer ($25, sephora.com) for small designs and CM-Beauty Tattoo Cover Kit ($33.96, cm-beauty.com) for larger ones.

A tattoo can be a cool way to pay tribute or celebrate at 50 but there are other options; diamonds anyone?

For more ageless beauty and style tips for women 50+ check out my new book The Wardrobe Wakeup, Your Guide to Looking Fabulous at Any Age by Lois Joy Johnson ($13.64, amazon.com).

Photo credits:

Betsey Johnson: luckymag.com

Melanie Griffith: sfgate.com

Susan Sarandon: parade.com

Raquel Welch: newbeauty.com

Kat Von D Lock-It Tattoo Concealer: sephora.com