Two Must-Dos For Younger Looking Skin
I started paying attention to my skin when I hit 50. Before that I would slap on whatever cream was around, used sunscreen only when I was at the beach, and figured I'd already damaged my skin by spending countless hours in the sun, slathered with baby oil mixed with iodine, even speeding up the damage by using one of those old reflectors.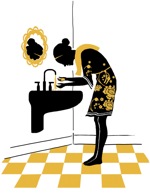 It was only when I got my first 10-times magnifying mirror, which showed every wrinkle and dark spot on my face, that I made an appointment with Dr. Doris Day, a leading New York-based dermatologist and author of Forget the Facelift: Turn Back the Clock with Dr. Day's Revolutionary Four-Step Program for Ageless Skin.

Day is a media personality you may have seen on morning talk shows or in women's magazines, or heard on Sirius and XM radio. She is in demand for her expertise on everything from acne to skin cancer, as well as the latest cosmetic procedures.

When I first met Day, I had the same complaints about my skin that seem to plague every woman over 50 that I know: dark spots, dryness, and wrinkles (I much prefer to call them life lines) that just won't go away. Not wanting to march into my life after 50 with skin that was anything but great, I asked Day to share her secrets for sensational skin as we age.

A big believer in the basics, Day says women spend too much time, money and effort on their skin. In fact, she says the list of products that women should have in their bathroom cabinets is small, indeed. Sure, it's fun to try different things, especially because there seems to be new advancement in the science of skin care every single day. But Day strongly advised: Always come back to your basics.

And what are those? Check out the conversation I had with Dr. Day recently during which she reveals the two things women at any age should do to have great skin after 50 (with a few extras thrown in for good measure!):




Until next time, remember this: We can't control getting older . . but . . . we can control how we do it!

What would you like to see in future episodes of The Best of Everything After 50. Tell me in the comments section below.
Photo credit: The Best of Everything After 50
Also of Interest