The Takeaway: 53rd Newport Folk Festival More Popular Than Ever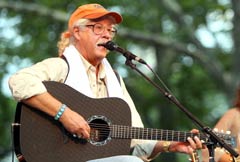 Fifty-three years after the inaugural Newport Folk Festival, the Rhode Island event is more popular than ever before, with tickets selling out a full three months in advance of next weekend's festival. Attendees this year will be treated to Newport veterans like Arlo Guthrie as well as more contemporary fare like Alabama Shakes, Deer Tick and Wilco.

See Also: American Pie Decoded At Last (Or Maybe Not) >> 

Guthrie will perform at the festival with the Guthrie Family band, which also features son Abe Guthrie, daughters Cathy, Annie and Sarah Lee Guthrie, and Sarah Lee's husband Johnny Irion. Throughout the summer, the group has paid tribute to family patriarch Woody Guthrie with a series of concerts commemorating what would be the folk icon's 100th birthday.

Music producer and promoter George Wein created the Newport Folk Festival in 1959, as a complement to the previously established Newport Jazz Festival. It was infamous in the 1960s, shut down in 1971, and took a nearly 15-year hiatus before being revived in 1985. It's run without interruption ever since.

I'm old enough I know that these things go in cycles," Wein, 86, told The Associated Press. "I want people to go to the festival knowing they're going to hear great music. And these bands - they're hugely popular."

The festival is expected to draw about 10,000 attendees each day.

Last year, Wein created the Newport Festivals Foundation to ensure the folk and jazz festivals are around for years to come. He said he'd like to establish an endowment to ensure they both "go on forever" -- and Wein himself has no plans to stop producing the shows. "What else am I going to do?" he said.

Monday Quick Hits:

The last time the Olympics were in London. That would be 1948--the first Olympic Games after a 12-year hiatus due to World War II. The New York Times rounds up some of the American athletes who competed in the 1948 Games.
Photo: Jeffrey Ufberg/Getty Images