A New Washington Memorial Just for Disabled Vets
In June 1969, Dennis Joyner was a 20-year-old soldier on patrol in Vietnam's Mekong Delta when he encountered a land mine that ripped off his legs and an arm. He had only been in the war-torn country 32 days.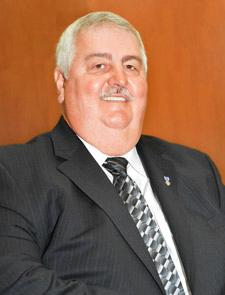 Now 66, Joyner has learned to navigate life over the years from a wheelchair and is one of the nation's more than 3 million disabled vets. He will also be among the crowds at the dedication of the American Veterans Disabled for Life Memorial in Washington on Oct. 5. The landmark is a tribute to those men and women whose lives were changed while serving our country.

>> Victims of VA Gridlock

"I went through a period questioning 'Why me?" says Joyner of Longwood, Fla. "But the good Lord had a purpose for me": to serve and help others who had experienced similar things.

"I've been able to take the 'dis' off of disability and just deal with the ability," Joyner says. "I've lived a great life. I wouldn't change it for anything."

Joyner, the married father of four and grandfather to seven, indeed has been fulfilling his purpose. He's held leadership positions with the 1.3 million-member Disabled American Veterans (DAV) and currently serves on the board of the Disabled Veterans' LIFE Memorial Foundation, which raised more than $81 million in private funds for the new national memorial. It has been in the making since philanthropist Lois Pope got together with Arthur Wilson of DAV and Jesse Brown, former Secretary of Veteran Affairs, to start the ball rolling in 1998.

>> Get discounts on health services with your AARP Member Advantages.

Now 16 years later, their idea is a reality. The 2-acre memorial features a star-shaped fountain, embedded into a reflecting pool, and a grove of trees framed by inscribed granite and glass walls. It is to be a peaceful and healing place that also raises awareness to the plight and sacrifices of disabled veterans and their families.

"I would like people to take a few minutes out of their lives and in their minds imagine what it's like to be a disabled veteran," Joyner says. He hopes that "when they spend a little time [at the memorial], they'll understand."


Photo: Courtesy of the American Disabled Veterans for Life Memorial

Also of Interest

See the AARP home page for deals, savings tips, trivia and more.