A Tutoring Adventure With AARP Experience Corps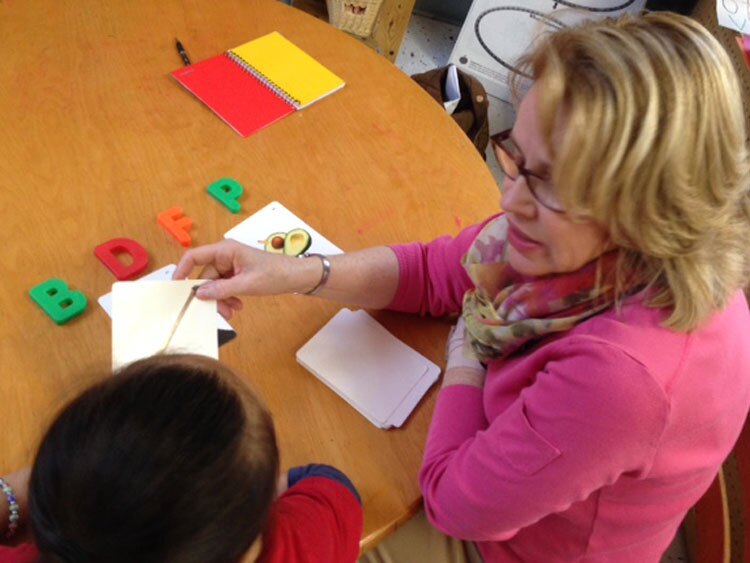 Beth Dugan, 58, loved volunteering at her kids' elementary school. Now that her kids are adults she wanted to help out in a classroom again.
A friend pointed her to AARP Experience Corps, a program of the AARP Foundation that tutors and mentors more than 20,000 kids in disadvantaged schools in 23 cities across the country. Dugan liked the structure, the 25 hours of pre-service and ongoing training and especially the kids. "I have grown very fond of the children," she said, "even the ones I'm not tutoring."
Now in her second year as a kindergarten volunteer at Community Academy Public School Amos 1 campus in Washington, D.C., Dugan tutors two or three kids twice a week.
Get the latest on where AARP stands — AARP Advocacy Newsletter »
I volunteer with Dugan while three Experience Corps literacy evaluators observe us and nine other volunteers at the school. The pressure is on!
Dugan introduces me to Sarah (all children's names are fictional), an eager 5-year-old who thrives from Dugan's personal attention. As we play alphabet flash cards, Dugan consistently reinforces learning. She shows Sarah a flash card of a dog.
"What is this picture?"
"What letter does 'dog' start with?"
"What sound does a 'D' make?"
Next we play "Alphabet Go Fish." Sarah has trouble remembering which letter cards we hold. I wail, "I hope Sarah doesn't ask me for an 'O'!" Sarah asks me for an 'O' and wins the game.
"You're a natural," an evaluator tells me.
Sarah selects a sticker as a reward and returns to her kindergarten group as Brandon joins us. He has difficulty remembering letters and sounds, and his short attention span is an extra challenge.
We play another card game that involves taking picture cards from the mouth of a plastic-and-felt alligator. Brandon likes the "danger" of this game. If he laughs he stays focused. Brandon gets a sticker, too.
Get discounts eye exams, prescriptions and more — AARP Member Advantages. »
Kindergarten teacher Colleen Jeske is thrilled with the Experience Corps help. "It's great to have someone who can devote time and attention to those students who really need that extra support," she says.
Our time is up. Dugan puts the games away and smiles. "When I come into this building, all the stress goes away," she says. "I really am getting something back from the kids. My experience has been really positive."
Photo: Jane Hess Collins
Also of Interest

See the AARP home page for deals, savings tips, trivia and more.