Al Feldstein: One of the Original 'Mad' Men
Mad magazine, edited in its 1960s and 1970s heyday by Al Feldstein, arguably was the most subversive publication on American newsstands - a comic book that, instead of superheroes' exploits, featured deft parodies of hit movies and Madison Avenue ad campaigns and biting satirical commentary on issues such as racial segregation and the Vietnam War.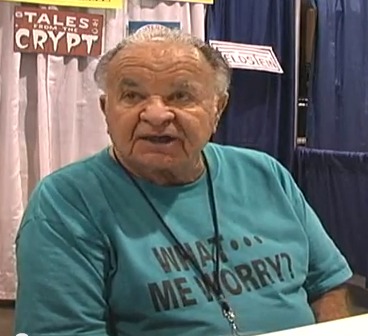 Here are eight facts about Feldstein, who died on April 30 at age 88 in Livingston, Mont., and how he fostered a style of humor that profoundly - and hilariously - shaped American popular culture.

>> Sign up for the AARP Health Newsletter



Feldstein broke in as a comics illustrator when he was still a teenager at the High School of Music & Art in New York. "I heard that some kid was making 20 bucks a page drawing comic books," he recalled in a 2007 interview. "... I thought, 'What the hell, I can do that.' " His first assignment was painting leopard spots on the bra and loincloth of Sheena the jungle girl.
After serving stateside in the Army Air Forces during World War II, Feldstein took a job with comic book publisher William M. Gaines, who switched his focus to Mad after a congressional investigation of horror comics killed that genre. Feldstein replaced Mad's founding editor, Harvey Kurtzman, in 1956.
Feldstein, whose ambition was turn Mad into "a showcase for iconoclastic humor," recruited TV pioneer Ernie Kovacs to write for him.
It was Feldstein's inspiration to put a freckled, jug-eared, gap-toothed young man named Alfred E. Neuman on the magazine's cover in 1956, originally as a presidential candidate whose campaign slogan was "What-Me Worry?" ("I wanted to have this visual logo as the image of Mad, the same way that corporations had the Jolly Green Giant and the dog barking at the gramophone for RCA," he once explained.)
Feldstein ran Mad's first piece of political satire in 1959: a comic strip suggesting that President Dwight D. Eisenhower take actor Jimmy Cagney along as an interpreter to a summit meeting in the Soviet Union, so that he could talk like a movie tough guy to Soviet leader Nikita Khrushchev.
At its peak in 1974, Mad had a circulation of more than 2.1 million.
After leaving Mad in 1985, Feldstein retired to Montana and started a second career as a painter of Western scenes. Here's a 2008 interview in which Feldstein discussed his career in both horror comics and as Mad editor.




Also of Interest



See the AARP home page for deals, savings tips, trivia and more