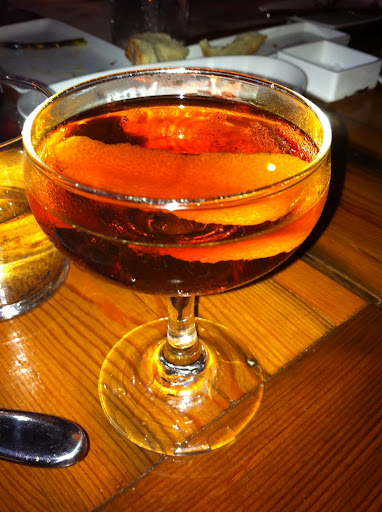 One of my favorite liqueurs is Chartreuse. The spicy, herbal, and sweet liquor has been produced by the Carthusian Monks in France since the early 1700's. The two most common types found in the liquor store is the Green or Yellow variety. The Green variety, arguably the most popular, comes in at 110 proof and is flavored with 132 plants and herbs. It's color comes from the chlorophyll in these herbs and plants. The Yellow variety is much milder in flavor and slightly sweeter. It clocks in at 80 proof. There are a few other versions of Chartreuse but these are generally much more expensive and hard to find.

While Chartreuse can be drunk year round, it tends to come into it's own during the fall and winter months. A very popular drink is to add some Green or Yellow Chartreuse (to taste) to hot chocolate during the winter. The herbaciousness of the liqueur mixes with chocolate in a way that is simply magical.

In keeping with sharing cocktails that bridge the gap between summer and fall, Chartreuse is a perfect liqueur to use with summery gin as well as wintery brandies and whiskies. The cocktail below first appeared in 1882 with the recipe found in Harry Johnson's New & Improved Bartender's Manual. This cocktail should be stirred in order to keep its clear, crisp, jewel-like color. After all, the cocktail's name is French for "jewel." It is said that each ingredient represents a particular precious stone; gin for diamonds, sweet vermouth for rubies, and green chartreuse for emeralds.

Bijou
1.5 ounces gin
.75 ounce Green Chartreuse
.75 ounce sweet vermouth
2 dashes orange bitters

Add all ingredients to an ice filled mixing glass and stir for 20-30 seconds. Strain into a chilled glass and garnish with a lemon peel.

Enjoy!