Backlash to Rolling Stone Tsarnaev Cover: Picturing a Villain
By Steve Mencher, July 18, 2013 09:39 PM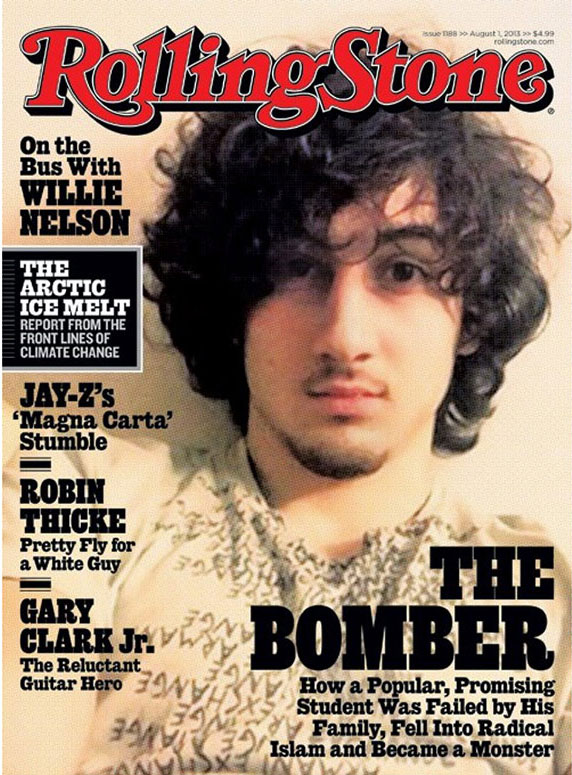 He's young, curly haired, sort of beautiful. You think of Jim Morrison and Bob Dylan in their prime. But the face is that of the Boston Marathon bombing suspect Dzhokhar Tsarnaev on the cover of the latest issue of Rolling Stone magazine.

And that outrages many people:

The Twitter hashtag #BoycottRollingStone is trending.

Boston Mayor Thomas Menino says the cover " rewards a terrorist with celebrity treatment."

Local and national chains that sell magazines, from Tedeschi Food Shops in New England to CVS stores across the country, are refusing to display and sell the issue.

For boomers, the controversy echoes the uproar over another Rolling Stone cover they remember from their youth. When mass murderer Charles Manson was pictured there in 1970, then-President Richard Nixon warned that the media attention made Manson a "glamorous figure." The Glasgow Herald later described the Manson cover as a step in creating the first "perp as Superstar."

But there was more than just a sensational cover shot: There was a first-rate journalistic inside story on Manson that earned a National Magazine Award for Rolling Stone.

When the outrage subsides this time, Rolling Stone hopes to again be judged not on its choice of cover, but on Janet Reitman's deeply reported, 11,000-word feature about Dzhokhar Tsarnaev.

As the Rolling Stone editors write in an online note: "The fact that Dzhokhar Tsarnaev is young, and in the same age group as many of our readers, makes it all the more important for us to examine the complexities of this issue and gain a more complete understanding of how a tragedy like this happens."

But Boston City Council member Rob Consalvo said in a statement that he spoke for "thousands of people who were personally affected by this tragedy [who] will have the unfortunate experience of coming across the face of a terrorist in a space usually reserved for rock stars and cultural icons."

That, said many, trumps Rolling Stone's desire to sell magazines. "Boston is strong," said Consalvo, "but we are still healing."

--

Watch some iconic Rolling Stone covers as Dr. Hook sings Shel Silverstein's satiric song "The Cover of the Rolling Stone."






Also of Interest

Join AARP: Savings, resources and news for your well-being


See the AARP home page for deals, savings tips, trivia and more