Come and join us for Senior Celebration Month at the Farmer's Market!
Hey there, blog readers!

If July finds you in Springfield, please do not miss the opportunity to join AARP, the Illinois Department of Agriculture and Springfield Clinic at the Farmers Market as we celebrate Seniors throughout the entire month.

That's right! AARP has teamed up with the Department of Agriculture and Springfield Clinic to sponsor the Farmers Market and design a series of senior-friendly activities, from health screenings, to special discounts, and even musical entertainment and Illinois Products Bingo!

Seniors who are 60 years of age or older and meet income guidelines can qualify for Farmers Market Nutrition Program coupons to be used at the Market.

One of the big events is the July 19 Illinois Products Bingo which will be held at 5:30 PM and is presented by AARP. It doesn't matter how old you are, just come on down and play! You will have the chance to win fun prizes!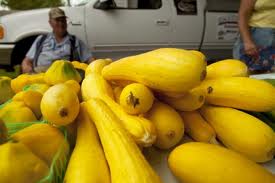 When and where are all these activitiess taking place?

They will happen every Thursday throughout the month of July, from 4 - 7 pm at the Commodities Pavilion, inside the Illinois State Fairgrounds. Look for our staff and volunteers who will be there to provide information and answer your questions. You can also take our new Medicare and Social Security questionnaire - remember, You've Earned A Say about the future of Medicare and Social Security, and we want to hear from you!

A Senior Shuttle will also be available on Thursdays in July from 4pm - 6pm to help transport seniors from the Springfield Clinic - Main Campus, to the Farmers Market.

You need more information?

Absolutely! All you have to do is call 217-785-4873 or visit http://www.illinoisproductmarket.com

See you at the Farmers Market!