Every Picture Tells a Story: Ringo's 'Kids' Found
By Steve Mencher, October 29, 2013 04:23 PM
Just a week ago, USA Today set out to solve a Beatles mystery: Who were the six teens in this photo that Ringo Starr snapped from a limo? It was Feb. 7, 1964, and the Fab Four were making their way into Manhattan on their first trip to America.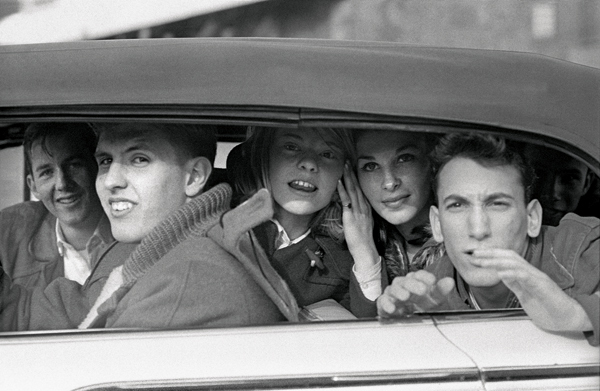 The call went out as Ringo was about to publish his book Photograph, described by his publisher as "250 rare and unseen photographs, with mementos and memories from his childhood, The Beatles and beyond." You might think the title unimaginative, unless you know Ringo's hit of the same name (see video below).

Reaction was immediate and successful, thanks to the reach of the social media. Writer Edna Gundersen fielded responses, and tracked down the car's occupants, all high school students from Fair Lawn, N.J.

>> Sign up for the AARP Travel Newsletter

From left to right:

Bob Toth, an Air Force veteran, is now a semiretired snowbird.
Driver Gary Van Duersen has left the corporate world and reinvented himself as an inventor.
Suzanne Rayot is a travel business professional.
Arlene Norbe, a former dental assistant, focuses on her real passion - belly dancing.
Charlie Schwartz, a former San Francisco bartender, devotes himself to helping youth get fit.
Bob Blender, difficult to see in the shadows at far right, died in 2011.


USA Today's Gundersen talked about them by phone: "These people are well into their 60s, and have lived full lives - and all of them were very excited to talk about that time. This was not the birth of a child or a round-the-world cruise - it was a few minutes in a car when they saw Ringo Starr. But they remembered every detail, and they remain Beatle fans to this day."

That day almost 50 years ago, the six teens piled into Gary Van Duersen's dad's convertible and headed for JFK Airport, where the Beatles' plane was landing. When pandemonium kept the kids from getting close to the action, they headed back home. Suddenly, traffic bunched up on the Van Wyck Expressway. As the convertible overtook a group of limos, a window was lowered.

>> Get entertainment and dining discounts with your AARP Member Advantages.

"There's Ringo five feet away," Schwartz told USA Today. "We were going berserk in the car. We must have been going 50 or 60 miles an hour. Gary [Van Duersen] was a madman on the road."

Five of the old friends in the photo reunited Oct. 28 on the Today show; on Nov. 22, NBC will fly them to see Ringo perform in Las Vegas.

Listen as Ringo sings "Photograph."




Photo by Ringo Starr from Photograph , the signed limited-edition book of 2,500 copies from Genesis Publications, Tel: +44 (0)1483 540 970, Price £345













Also of Interest



See the AARP home page for deals, savings tips, trivia and more