"Genius Grant" for Geriatrician Who Helped Cut Hospital Readmissions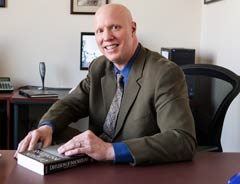 A geriatrician known for his work reducing hospital readmissions, Eric Coleman is among the 23 men and women named yesterday as recipients of the 2012 MacArthur fellowships. Nicknamed the MacArthur " genius grants," these fellowships from the John D. and Catherine T. MacArthur Foundation come with an award of $100,000 per year for five years, no strings attached.

As a physician and professor at the University of Colorado School of Medicine, Coleman, 47, became concerned by the steady stream of patients who were discharged only to be readmitted soon after. Such readmissions are both costly and dangerous - yet according to a 2009 study, one in five Medicare patients returns to the hospital within 30 days of discharge.

"A lot of patients assume that health care professionals are communicating with one another and that there's this whole elaborate way of ensuring continuity across care settings," Coleman told the AARP Bulletin in 2009. "The reality is that health care is very fragmented, with very little interaction between hospitals, primary care doctors, and other providers."

The problem inspired Coleman to develop the Care Transitions Program, which trains nurses and social workers to help patients and/or caregivers effectively manage medications, appointments and other follow-up care. Such interventions have been shown to reduce hospital readmissions by 20 to 50 percent.

The Care Transitions Program also aims to influence national health policy in ways that will encourage continuity of care. In a recent interview with the Commonwealth Fund, Coleman detailed some of the program's policy efforts.

Other 2012 MacArthur fellows include write Juno Diaz, neurobiologist Elissa Hallem, Washington Post reporter David Finkel, flutist Claire Chase, public economist Raj Chetty and photographer Uta Barth.

Tuesday Quick hits:

- People with dementia have lower antioxidant levels. In a new study published in the Journal of Alzheimer's Disease, researchers found concentrations of the antioxidants vitamin C and beta-carotene were much lower in patients with dementia than those in a control group.
- Young Israelis honor elders with Holocaust tattoos. Some descendants of Auschwitz survivors are "memorializing the darkest days of history on their own bodies" by replicating the numbers that were tattooed on family members arms by the Nazis. "I decided to do it to remind my generation," Eli Sagir, 21, told the New York Times. "I want to tell them my grandfather's story and the Holocaust story."
- Night camp for dementia patients lets caregivers rest. Sleeplessness is one of the many symptoms of Alzheimer's and dementia. A new overnight camp for dementia patients provides patients with structured activities (sing-alongs, crafts) and therapy sessions from 10 p.m. until dawn - and provides caregivers with a much-needed rest. "Without this program, my father would be lost, and I would be crazy," said Robert Garcia, whose 82-year-old father is in the program. "He doesn't sleep. At night he's wide awake, and he needs activity."
- USPS employees get retirement incentive. Full-time postal service employees with 20+ years tenure are eligible for a $15,000 buyout under an agreement between the USPS and the American Postal Workers Union. The agreement comes after months of negotiations.
- Most online pharmacies fake. In a recent study of more than 10,000 online pharmacies, 97 percent violated state or federal laws and/or safety standards. Many look like legitimate pharmacies and claim to be located in the United States or Canada but aren't, warns the FDA.
Photo: Courtesy of the John D. & Catherine T. MacArthur Foundation