Keith Richards to Publish Children's Book About His First Guitar
By Allan Fallow , March 12, 2014 02:01 PM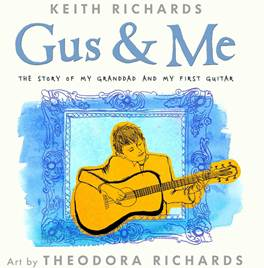 Who put the first paintbrush in the hands of Leonardo da Vinci? The stylus in the hands of Auguste Rodin? The guitar in the hands of Keith Richards?
We may never know the first two. But with the news that Richards will publish a children's book about his first guitar on September 9, we can pinpoint the third: It was Theodore Augustus Dupree, Richards's maternal grandfather. The culture-shaping moment when that handoff occurred will now be captured by Richards in Gus & Me: The Story of My Granddad and My First Guitar (Little, Brown Books for Young Readers ). The illustrations for the book, pen-and-ink collages, are being created by the rock icon's artist daughter, Theodora Dupree Richards.
>> Sign up for the AARP Leisure Newsletter
"To research the images for this project," says Little, Brown's Melanie Chang, Theodora "traveled to the Richards family home in Dartford, England, and pored over family and historical photographs of Richards's childhood era." (Gus & Me will also include photos drawn from the Richards family collection.)
Close readers of Keith Richards's 2-million-selling 2010 autobiography, Life, may recall his extensive shout outs to his grandfather: "I owe so much of my love of music to him," Richards acknowledged. Gus Dupree, who fronted a square-dance band that played American airbases and later a jazz big band, kept a nylon-string guitar atop the upright piano in his home. "'Hey, when you get tall enough, you can have a go at it,' " Richards recalled in Life. "I didn't find out until after he was dead that he only brought that out and put it up there when he knew I was coming to visit."
"Rockers just wanna write kids' books" is hardly a hot new trend in the music or publishing industries: Every vintage musician from Bob Dylan and Dolly Parton to David Bowie and Courtney Love seems to have churned one out. But with Gus & Me, the 70-year-old Richards seems to have something far less voguish in mind: "I have just become a grandfather for the fifth time," Richards said, "so I know what I'm talking about. The bond, the special bond, between kids and grandparents is unique and should be treasured. This is a story of one of those magical moments. May I be as great a grandfather as Gus was to me."
>> Get entertainment and dining discounts with your AARP Member Advantages.
That's a sweet sentiment from a famously craggy survivor of the rock scene. As we wait for Gus & Me to make its way to bookshelves in the fall, Richards's tribute to Grandpa Gus also richly validates the man's approach to passing down a musical passion: "Gus was leading me subtly into getting interested in playing," Richards realized in the pages of Life, "rather than shoving something into my hand and saying, 'It goes like this.' "
Illustration: Gus & Me book cover courtesy of Little, Brown Books for Young Readers. Reprinted with permission.
Also of Interest

See the AARP home page for deals, savings tips, trivia and more