Maria Shriver Back on NBC with Focus on Women's Issues
By Lorrie Lynch , May 01, 2013 12:39 PM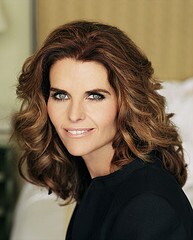 Maria Shriver, a longtime advocate on important social issues for women and the needy, has a new job at 57, one where she plans to focus attention on women's lives as "providers parents caretakers and caregivers." She will return to NBC as an "editor at large" to develop stories related to women's lives for all of the company's media platforms.
A career journalist who left NBC in 2004 after now-estranged Arnold Schwarzenegger was elected governor of California, Shriver says on her website, "I'm passionate about the need to shine a light on women's evolving roles... the pressures they face and how our society might adapt to support them."
She says she'll focus "content and news programming that touches on women's multi-faceted lives," which is no surprise to those who have followed her career in both journalism and public life. Soon after she became California's first lady in 2003 she created The Minerva Awards to honor "remarkable California women" who had changed their communities. At NBC, she says she'll also profile "people I like to call 'Architects of Change,' groundbreaking women and men who are pushing the boundaries of society, technology, media, science, business, faith and politics."
Shriver's agreement with the network allows her to work on other projects - books, movies, public appearances and the like - and she says she'll continue her website, which focuses on inspirational people and social and community issues.
The only daughter of Eunice Kennedy Shriver and R. Sargent Shriver (the second of five children), Maria Shriver has written numerous books, among them spiritual guides, children's books on death and a comprehensive report on Alzheimer's. She also produced a series on Alzheimer's for HBO. Her father was diagnosed with the disease in 2003 and died in 2011. Her mother died in 2009.
Shriver and Schwarzenegger separated in 2011 after his admission of an affair with the couple's housekeeper.
Also of Interest

Join AARP: Savings, resources and news for your well-being
See the AARP home page for deals, savings tips, trivia and more