Testosterone for Sale (Though Many Docs Don't Buy It)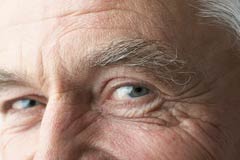 Weight gain, fatigue, loss of athletic prowess?

"It could be Low-T," says Abbott Laboratories.

That would be low testosterone -- a "once-natural part of getting old that has become a target for medical treatment," as the Associated Press puts it. Abbott is one of several U.S drug companiesmarketing testosterone gels, patches or injections to men over 40.

The companies (and some doctors) claim testosterone therapy can reverse signs of aging ranging from erectile dysfunction and low sex drive to insomnia, fatigue and depression. But others -- including government health officials -- are less sure.

The problem is that we don't have any evidence that prescribing testosterone to older men with relatively low testosterone levels does any good," says Dr. Sergei Romashkan, who oversees clinical trials for the National Institute on Aging, a part of the National Institutes of Health conglomerate of research centers.

Evidence has been mixed, and potential health risks are serious (including increased heart disease and prostate cancer risk). Drug companies say it affects 15 million American men, though federal scientists don't use this estimate.

We really 'medicalize' seniors so much that they think the secret always has to be scientific," says Dr. Nortin Hadler of the University of North Carolina at Chapel Hill, who has written four books on excessive medical care. "We need another perspective to understand the secrets to healthy aging, which by and large are not pills."

But the direct-to-consumer marketing of testosterone therapy is already well underway. According to AP, spending on print and televisions ads promoting testosterone rose more than 170 percent in the last three years. Doctors say more men come in seeking testosterone treatments, and prescriptions rose nearly 90 percent over the past five years.

Monday Quick Hits:

- Workers bear more benefit costs. Employers are asking workers and retirees to pay for some or all of the costs of "small benefits," things like life, disability and accidental death insurance that were once included in the total compensation package.
- Coping with mild cognitive impairment. New York Times blogger Judith Graham interviews Nicole Anderson, the author of a new book on living with mild cognitive impairment. "I think the world is just catching up with M.C.I.," said Anderson. "Knowledge about M.C.I. and interventions for M.C.I. has unfortunately lagged behind."
Photo: Edvard March/Corbis