The Takeaway: 101-Year-Old Utah Paraglider Breaks Record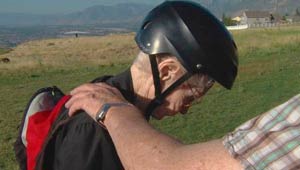 Oldest Female Paraglider: Utah's Mary Hardison, 101, was just recognized by the Guinness Book of World Records as the "Oldest Female to Paraglide Tandem," according to the Associated Press. Hardison ushered in her 100th birthday on Sept. 1, 2011, with a tandem (accompanied by a guide/instructor) paraglide ride. She got the idea from her son, who had begun paragliding as a hobby.

"I didn't want him to get too far ahead of me, so I decided that I'd go too," she said Tuesday.

Hardison takes the oldest female paraglider title from a woman from Cyprus, now 100, who took her paraglide ride in 2007.

See Also: Guinness World's Record for longest marriage >>

Hardison told AP she had no idea her ride would be record-breaking. But it was characteristic: For her 90th birthday, Hardison rode all the adult rides at Disneyland.

My desire is for the elderly to keep on going," she said. "Do things as long as you are physically able. Be positive. Friends don't like a grumpy person."

In October 2011, Richardy Byerley, 84, became the oldest person to summit Mount Kilimanjaro on foot. Fauja Singh, 89, became the oldest person to complete a full-distance marathon that same month. Earlier in the year, 74-year-old Ernestine Shepherd was inducted into the Guinness Book of World Records for being the oldest competitive female bodybuilder.

Thursday Quick Hits:

Lewis Richmond, author of "Aging as a Spiritual Practice," explains why belonging is an essential factor for healthy aging. "In modern post-industrial societies ... traditional roles for elders are vanishing, and elders are left to themselves to discover their own individual ways to regenerate new ways to belong as old ones fade away," he writes.
While we're on 401(k)s ... SmartMoney.com's Ian Salisbury says improved transparency in 401(k) fees could be "eye-opening" for retirement savers; by rough estimates, 401(k) fees add up to as much as $164 million every day.
And a new study on how baby boomers travel found professional sporting events, live theater, art museums, rock concerts, symphonies, business and gambling are the travel draws. Boomers are also 9 percent more likely than all U.S. adults to have traveled domestically for business or vacation purposes in the past year, according to market research firm Scarborough.
Photo: KSL-TV/AP