The Takeaway: Americans Are Misusing Reverse Mortgages, Says Consumer Agency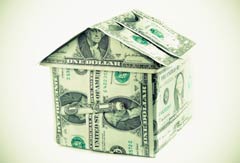 Reverse mortgages are not being used as Congress intended, according to a new report from the government watchdog agency Consumer Financial Protection Bureau (CFPB). Reverse mortgages were created to provide an income option for retirees. But these mortgages are increasingly being taken out by younger borrowers, which could decrease long-term retirement security. Borrowers also tend to take lump-sum payments that can be used up quickly.

See Also: 5 Questions to Ask Before Considering a Reverse Mortgage >> 

Because reverse mortgages can help older homeowners ease the strain of retirement, this product can be beneficial if seniors choose it based on a solid understanding of how it works," said Richard Cordray, the consumer agency's director. "But in some situations, the product can be misused in ways that harm borrowers."

Reverse mortgages let older homeowners borrow against the equity in their homes without having to make payments as long as they live in the house. The minimum age for taking out a reverse mortgage is 62.

The number of Americans with reverse mortgages is small, notes Reuters -- only 2 to 3 percent of eligible homeowners. But since the 1990s, the proportion of borrowers in their 60s has more than doubled, according to the report. In 2011, almost half of people taking reverse mortgages were younger than 70. And more than 70 percent withdrew all the available money at once, rather than receive annuity-like regular payments or use the funds as a line of credit.

Both of these trends increase the change that homeowners will run out of money or face foreclosure in retirement, the agency said.

"Reverse mortgages should only be used as a last resort because they can carry huge costs that can quickly drain a homeowners' equity," said Norma Garcia, a lawyer with Consumer Union, the advocacy division of Consumer Reports. "The reverse mortgage industry insists that it can police itself but it's clear we need common sense oversight by the CFPB to protect seniors."
Thursday Quick Hits:

Congress honors first black Marines. In a ceremony Wednesday, House Speaker John Boehner presented the Congressional Gold Medal to about 400 of the country's first black Marines. These men were among nearly 20,000 Marines who trained at Montford Point, a segregated boot camp, from 1942 to 1949.
Retirees across the country stung by benefit rollbacks. In Stockton, Calif., the city council passed a proposal to end health coverage for retired city employees. Meanwhile, in Detroit, seven city retirees sued because of the city's cuts to their retirement health benefits. And General Motors and Ford retirees are struggling with whether to accept offered pension buyouts.
Photo: Glow Images/Getty Images