The Takeaway: Dukes v. Wal-Mart; Ban on Hearing Aids
P.M. Notes: Social Security cost-of-living allowance is coming: But don't get too excited. The increase is expected to be modest. ... The U.S. Department of Housing and Urban Development is offering emergency funding for people struggling to pay their mortgage. Homeowners facing foreclosure have until July 22 to "pre-apply" for a forgivable loan up to $50,000 through the Emergency Homeowner Loan Program (EHLP). ... Two studies released today examine employer-based health insurance. About 61 percent of people (not including those eligible for Medicare) are covered through their employer: "Even though the number of Americans with health insurance through employers has declined, most will continue to get coverage through their jobs after the new healthcare law takes full effect." ... Will housing take another hit as 50+ begin to sell their homes? ... New research shows many want to age in place - but most have no plan.


... Dukes v. Wal-Mart: In a decision issued on June 20, the Court ruled 5-4 that the lawsuit against Wal-Mart cannot go forward as a class action. Sparked by Betty Dukes, 61, below, it was the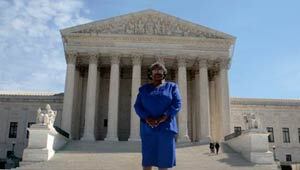 biggest employment discrimination lawsuit in American history. At issue: The court's decision in Dukes v. Wal-Mart, experts say, will almost certainly affect all class-action lawsuits that follow it, including age discrimination, consumer protection, and securities cases. ... Another workplace bias complaint: Ban on hearing aids? "After years of informally allowing officers to wear hearing aids, and even paying for some, the New York City Police Department in late 2009 began enforcing a ban on the hearing devices, forcing older officers who had them to retire and instructing younger officers to stop wearing them at work."
... Boomers make the most of their second act.   In their own words: A peek at how people over 50 are living their best lives. ... Only 1 in 6 seniors going for the new copay-free Medicare wellness benefit. "Seniors who have been on traditional Medicare for more than a few years have been told again and again that their coverage won't pay for annual physicals and won't fully cover preventive care like prostate cancer screenings, bone density screenings and mammograms. But the rules have changed."
Why are more men opting for cosmetic surgery? Men had 1.2 million cosmetic procedures last year, up 2 percent from 2009, according to the American Society of Plastic Surgeons. Still, women accounted for 91 percent of all cosmetic procedures that year. What would you do to look younger?
... Retirement a big challenge for Black Boomers. For African Americans and other ethnic groups with low savings rates and a greater portion of individuals in low paying or government jobs, working longer or reentering the workforce after initial retirement may become the norm, experts say. ... And for those not quite ready for retirement: How Boomers can manage younger workers. Some tips for navigating the generation gap at work.
... Women advances in politics: Women running for governor in 2010 faced fewer biases and stereotypes than their predecessors but also received fewer of the advantages that female candidates have enjoyed in previous cycles. The report also found younger women were less likely to support female candidates than Boomers.
(Plaintiff Betty Dukes stands alone on the steps of the U.S. Supreme Court after the class action lawsuit Dukes v. Wal-Mart was argued before the court on March 29, 2011. - Larry Downing/Reuters)