The Takeaway: Majority of Older Americans Get Too Much Salt; Social Security COLA and the Working 'Retired'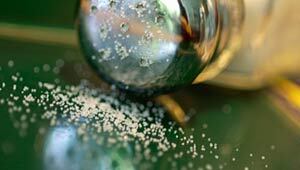 Do Not Pass the Salt: A new report from the Centers for Disease Control and Prevention says most Americans still consume too much sodium, despite the fact that we should all know better. The dangers of a high-salt diet have been touted for decades ( although not without controversy). Reducing sodium intake has been proven to cut high blood pressure-a major risk factor for strokes and heart attacks. F ederal nutrition guidelines recommended those 51 and older get no more than 1,500 mg of sodium per day (the same goes for blacks and those with high blood pressure, diabetes or kidney disease, regardless of age). But a CDC analysis of 19,000 Americans (using data from 20o5-2008) found 98.6 percent of those who should cut sodium to 1,500 mg per day eat more than that.
Most of the sodium you get in your diet doesn't actually come from the salt shaker, the CDC notes. This is one way good-intentioned people often fail at cutting back on sodium, by thinking, oh, I'll just add less salt to my food! About 75 percent of the sodium in the typical American diet is added to the food during processing (for packaged foods) or preparation (for restaurant food). One more good reason to work more fresh, unprocessed foods into your diet!
Social Security Boost For Working Retirees, Too: Yesterday's announcement that Social Security recipients will be getting a 3.6 percent increase in benefits next year was likely met with relief by retirees who depend on that money to get by. But will the raise make a difference for those who collect Social Security and another paycheck? Possibly: The Social Security Administration has also bumped up the limits on the amount working 'retirees' can earn without seeing a cut in Social Security benefits, Forbes' Kerry Hannon reports.
First off: There is no earnings limit for workers of 'full' retirement age (66 for people born 1943-1954). For folks who've elected to take Social Security benefits earlier than that, the earnings limit has been raised to $14,160. For example, a 62-year-old could make $14,160 in income without getting less Social Security benefit money; but for every $2 earned over $14,640, that person will lose $1 in benefits

It is important to note, though, that these benefit reductions are not truly lost," Hannon writes. "Your benefit will be increased at your full retirement age to account for benefits withheld due to earlier earnings, according to SSA."

While the Social Security program lets you begin getting payments as early as 62, full benefits don't begin until age 66. Individuals can increase their payments by 7 to 8 percent each year they wait to take benefits, up to age 70. [Confused about when to claim benefits? We have answers.]
Friday Quick Hits:
(Photo: Chijo Takeda/Getty Images)