The Takeaway: Republican Presidential Candidates Get Heated in Vegas; Social Security Increase Coming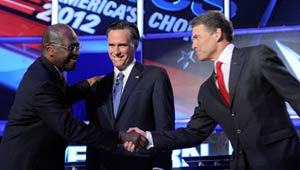 Stakes Up But Jackpot Elusive in GOP Debate: Maybe it was something about the Vegas air that got Republican presidential candidates so riled up in last night's CNN-sponsored debate (the fifth GOP debate since Labor Day). This debate, at Las Vegas' Venetian/Sands Expo and Convention Center, saw Herman Cain vigorously defending his 9-9-9 tax plan, which was nearly universally panned by the other candidates, and Texas Gov. Rick Perry-after a subdued showing at last week's debate-doing his darndest to tangle with Mitt Romney once again (though no more Social Security talk; illegal immigration was all the rage this week).

Former Speaker Newt Gingrich was the only one with nice things to say about Cain's 9-9-9 plan:

"Herman Cain deserves a lot of credit. He's had the courage to go out and take a specific, very big idea. He has us at least talking about something that matters, as opposed to the junk that all too often is masquerading as politics in this country."

But Texas Rep. Ron Paul called the plan 'regressive,' and said it would force millions of poor and working-class Americans to start paying taxes. A report from the nonpartisan Tax Policy Center yesterday said while Cain's 9-9-9 plan would raise enough revenue, it would also raise taxes on the bottom 84 percent of taxpayers while the richest Americans got tax cuts. Perry said:

"Herman, I love you, brother, but you don't have to have a big analysis to figure this out. ... It's not going to fly."

Perry, assertive to the point of being aggressive, called Romney a hypocrite for hiring illegal immigrants to do his yard-work. Perry was referring to a 2008 dust-up, in which The Boston Globe exposed that a lawn company used by Romney had hired illegal immigrants as workers. Romney said he'd take care of it, but a year later, the company was found to still employ illegal immigrants on Romney's property; Romney then fired the company.

I suppose, with the debate's emphasis on illegal immigration policy, people could make the case for the relevance of things like this; to me, though, it seems like exactly the kind of 'junk' and spectacle Gingrich mentioned, the kind that keeps us from talking about whether, say, a tax plan being touted as a boon to the middle class will actually raise taxes for 80 percent of Americans. A lot of the Vegas debate coverage I've seen leads with Perry's accusations against Romney ...

Romney was generally piled on by all his fellow candidates last night, which also included Rich Santorum and Minn. Rep. Michele Bachmann (Jon Huntman sat this one out, to protest Nevada moving up its primary election). Maybe they're all tired of people acting like a GOP nomination for Romney is a sure thing? Or maybe everyone is just getting more anxious as primary elections creep closer (the first takes place in a little over two months). Romney, for his part, remained mostly unflustered. James Fallow at the Atlantic writes:

Mitt Romney ... knows what he is doing in a debate and has gotten steadily better at it. He can use logic (more of a distinguishing trait in this field than you would think); he can control his emotions; he can make others lose control of their emotions -- especially Perry, who looked like he wanted to land a big haymaker upside Mitt's head; and he can even use body language. He reached across to put his hand on Perry's shoulder in an unusual and no doubt infuriating "now, now, little man" gesture.

Benefit Boost: After two years without cost-of-living adjustments, Social Security recipients will get a boost in benefits next year. The Social Security Administration released its inflation measure that determines the annual COLA with a 3.6 percent increase, which would amount to an additional $38 a month, or about $455 a year, over this year's average of $13,000 a year for Social Security recipients.

Wednesday Quick Hits:

See "In the News" for more on current events, entertainment and how it all relates to you.

(Photo: Ethan Miller)