The Takeaway: "Timeless Torches" Dance Team Defies Age Stereotypes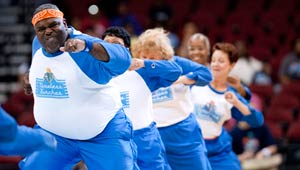 Timeless Torches Represent: Conjure an image of your average halftime-show dancer, and you're probably thinking female, early-20s, lean, and lithe and scantily clad. The average age of performers with New York's " Timeless Torches" dance troupe, by contrast, is about 60. Some are struggling with herniated disks, degenerative knees and back problems. Yet the group-affiliated with professional women's basketball team the New York Liberty- perform at roughly 10 games per year, and have even been featured on the comedy "30 Rock" (Tina Fey's Liz Lemon was part of the team).

Our main thing is shocking the audience and showing them that no matter what size you are and how old you are, you can still dance and represent," said Margaret Hamilton, 42, a dancer in the group since its debut in 2005. "I was representing all the heavy-set people, to show that fat people can move."

The Torches, who feature both men and women, held auditions last week. Among past troupe members re-auditioning were Luis Jimenez, 47, a 300-pound city bus driver, and Denise Bellog, 59, who lost her hearing 16 years ago.

"You can have any look, any hair color, be any weight," said Amanda Rebisz, a member of the dance team for the New York Knicks and the Torches' choreographer. And while smooth moves are important, Rebisz said what she most looks for in dancers is individuality; unlike the highly synchronized movies of most dance teams, the Torches have the freedom to take ownership of dance moves.

Shirley Koehler, 71, and a performer with the Torches for the past six years, demonstrated this nicely during her audition:

Ms. Koehler finished a flawless rendition with some personal touches. She stuck a pose and swiped her hand down her right side, slowly shaping her figure. Then she stared at the judges and mouthed the final song lyric: "I'm sexy and I know it."

The Torches aren't the only nontraditional dance troupe making the halftime-show rounds, however. About a dozen National Basketball Association senior dance squads have formed in recent years- read more about them (and watch them perform) here.

Monday Quick Hits:

Photo: Cal Sport Media/AP