The Takeaway: "You Gave, Now Save"-Don't Miss Out On Benefits for Older Americans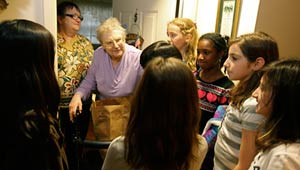 Missing Out? Millions of older Americans might qualify for healthcare, prescription drug, food and utility bill assistance-if they only knew about it. The National Council on Aging (NCOA) and the National Association of Area Agencies on Aging (n4a) are teaming up to highlight public and private benefits for low-income seniors, of which many older Americans aren't even aware. The agencies also urge adult children with aging parents to check out whether mom and dad qualify.

Many Baby Boomers might think mom and dad are doing OK," says Sandy Markwood, chief executive officer of n4a. "It's really a time to find out and make sure they're safe. There might be free services to help them if they need it."

The NCOA and n4a's new campaign, "You Gave, Now Save," aims to reach the "millions of low-income Americans who are struggling to make ends meet" yet "missing out on billions of dollars of services and benefits that can help them," said James Firman, president and CEO of NCOA. The economic downturn has been rough on older Americans, and the winter months-with their high heating bills-are especially tough for folks living on a fixed-income. According to U.S. Census data, nearly one in 10 older Americans lives below the federal poverty level.

To see if you or your loved ones qualify for assistance, visit the NCOA's website, BenefitsCheckUp, which lists more than 2,000 public and private programs for low-income seniors. In 2011, 71% of all BenefitsCheckUp users were missing out on potential benefits, NCOA reports. It claims to have helped 3,079,331 people find over $11.1 billion worth of benefits since launching BenefitsCheckUp 10 years ago.

AARP Foundation, the charitable wing of AARP, also provides an online tool to check whether or not you qualify for benefits. Visit www.aarp.org/quicklink to access the AARP Benefits QuickLINK tool. And you can check with the U.S. Administration on Aging's Eldercare Locator ( eldercare.gov, 1-800-677-1116) to find local agencies that offer support.



Thursday Quick Hits:

Writer and FierceWithAge CEO Carol Orsborn thanks the Grammys for "using the world stage to demonstrate that old is not synonymous with hopelessness, marginalization or abandonment."
Photo: Evy Mages/The Washington Post/Getty Images