U.N. Report: 1 Billion Will Be 60+ by 2020; Global Action Needed to Protect Aged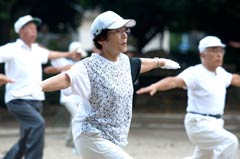 The global population of over-60-year-olds will reach 1 billion within the decade, according to the United Nations Population Fund (UNFPA). In a new report, the organization warns that discrimination, abuse and violence against older adults - and especially older women - are still common, even in wealthy industrialized nations.

"We need bold political leadership," Babatunde Osotimehin, executive director of the Population Fund, told the Associated Press. "Aging is manageable, but first it must be managed."

In less than 40 years, 64 countries around the world - from Canada to Albania to Japan - will boast populations where at least 30 percent of residents are 60-plus. The report calls this "a triumph of development," noting that people now live longer because of advances in nutrition, sanitation, health care, education and economic well-being.

"But as the number and proportion of older persons are growing faster than any other age group, and in an increasing range of countries, there are concerns regarding the capacities of societies to address the challenges associated with these demographic shifts," it says.
In addition to elder abuse and discrimination, the report also highlights:

Aging in the media: Mass media tends to stereotype older adults and characterize aging as a time of decline. "Studies of the representation of older people in the media suggest that they are under-represented," the report says.

"A notable category of media coverage of old age is the type of story in which a particular older individual is presented as a praiseworthy deviation from the norm. While appearing to be positive images of ageing, these stories rely on an assumption that the majority of older people are the opposite of the individuals featured."
Pension problems: In many countries with public pension programs - including the United States, India, Brazil and Mexico - older adults tend to pay more into pension systems than they receive in return.

Poverty. Around the world, older populations tend to face higher rates of poverty than the general population. In some countries, such as Latvia and Cyprus, half of older adults live in poverty.

Dementia. There are about 36 million people living with dementia worldwide. The number is projected to nearly double every 20 years, reaching 65.7 million by 2030.

Social benefits. Over a third of countries don't have any sort of "comprehensive social protection scheme," the report notes. In those that do, "most of these schemes only cover those in formal employment as wage or salary workers, who constitute less than half of the economically active population worldwide."

Monday Quick Hits:

・ Does anyone have a Valium? In a New York Times op-ed, Robin Marantz Henig looks back at "how revolutionary these 'minor tranquilizers' were" 50 years ago. "These were the drugs that gave us a new way to slay our inner demons," she writes, "medicating our way to a happier life."
・ Farewell to the bench seat. Only one car, the Chevolet Impala, still offers the bench seat as an option - and with the 2014 redesign, it will no longer be available. In honor of the American classic:
Photo: Tomohiro Ohsumi/Bloomberg/Getty Images