Morgan Shepherd, at 71, Breaks NASCAR Age Record
By Bill Hogan, July 12, 2013 04:57 PM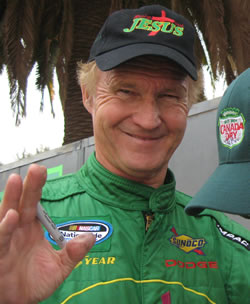 Updated July 15, 2013

Morgan Shepherd has become the oldest driver, at 71, to start a race in NASCAR's Sprint Cup Series race.

Shepherd started 41st in the 43-car field at New Hampshire Motor Speedway on July 14, driving for Brian Keselowski Motorsports, and completed 92 laps of the 301-lap race before he pulled into the garage.

The previous record was set by Jim Fitzgerald when he started the June 1987 Cup race at Riverside International Raceway at age 65.

Here are 10 intriguing facts about Shepherd:

Shepherd's father was a farm worker, logger, and moonshiner in Ferguson, N.C. "The first time I can ever recall actually seeing my father was when I was four years old and he was walking down the road," he once told an interviewer. "He was just returning home from a year in prison for making moonshine."
When he was 12 years old, Shepherd bought his first car, a 1937 Chevrolet Coach, in exchange for "$12.50, two flying squirrels, a gray squirrel, and a 20-gauge shotgun."
Using his souped-up moonshine car, Shepherd got into racing to earn extra money on the weekends.
Shepherd got his first driver's license when he was 26.
A born-again Christian since 1975, Shepherd competed under his "Racing With Jesus" logo to spread this message: Eat right, take care of yourself, and go to church.
Competing part-time in the NASCAR Truck Series in 2001, Shepherd often served as his own pit crew, getting out of his truck to change its tires and refuel.
Shepherd hasn't been in a NASCAR Sprint Cup Series race since 2006. His most recent Cup victory came two decades ago at Atlanta Motor Speedway.
"For the longest time," reports George Diaz of the Chicago Tribune, "[Shepherd] has survived on hand-me-downs from compassionate competitors in the garage and $20 donations from devoted fans."
At NASCAR events, Shepherd has been known to roller skate around the garage and pit road.
In 2011, while staying in Las Vegas between races, Shepherd, then 69, chased down, tackled and restrained a young shoplifter who'd run out of a Walmart.


Shepherd clearly has a higher calling. "For whatever reason, the Lord has blessed me with my health and I know that everybody can't do what I do," he told Sports Illustrated in 2002. "I still roller-skate and drive a race car 200 miles-an-hour. But that's not what my life is about. It's to encourage people to take care of themselves. It's not over after 50 years old."



Also of Interest

Join AARP: Savings, resources and news for your well-being


See the AARP home page for deals, savings tips, trivia and more