100 Years Old, Throwing Fenway's First Pitch.... Twice
The following is a guest blog from Austin O'Connor. You can read his full piece on his grandfather here.

Well, it happened. He threw the pitch. Twice, actually.

After months of training, my grandfather walked out onto the field on a spectacularly sunny afternoon at Fenway Park last Saturday to toss the ceremonial first pitch on his 100 th birthday. As the ballpark PA announcer ticked off the highlights of his biography - Bill Hogan, Jr., President of the Boston College class of 1933(!), captain of the hockey team there under coach "Snooks" Kelly, Harvard Law grad, General Counsel at New England Telephone, married for 57 years, 13 grandchildren and 18 grandchildren on hand - you could hear the crowd waiting to watch the Red Sox play the Tampa Bay Rays grow more and more interested. By the time they were told that the day was, in fact, the 100 th birthday of the man ambling toward the mound, there was a huge roar. Most ceremonial first pitches are hardly noticed - this one had the crowd's rapt attention. Standing on the field down the third base line, I got chills.

And then the pitch. OK, so yeah - it wasn't his best. I saw him throw dozens of better ones during his training. And he knew it, too.




It kind of dribbled across home plate, and he swatted the air in disgust right after it left his hand. When Red Sox reliever Mark Melancon, who was catching the pitch, trotted out to present the ball back to him, Grampy Hogan did something you don't often see but, if you knew my grandfather, wouldn't surprise you at all. He asked for another shot. Actually, he demanded one. The startled Melancon raced back behind the plate, and my grandfather uncorked a second first pitch. This one was better. Still not what he had hoped for - I'm pretty sure he thought he would sizzle a Nolan Ryan-esque heater right across the plate - but it was definitely better.

Later, watching the game in a suite with nearly 60 of his progeny, he lamented the fact that his pitches didn't go as far as he'd have liked. But he was clearly having a ball. Waves of people, many of them total strangers, paraded up to him to wish him a happy 100 th. He even inspired the Red Sox, so far struggling in the young season, to a solid, satisfying win. The littlest great grandkids played together, posed together (see below) and went nuts when Wally the Green Monster delivered a birthday cake. At one point, I looked over to see my 2-year-old son Mac high-fiving his great granddad as he walked past. How many people ever get to see something like that?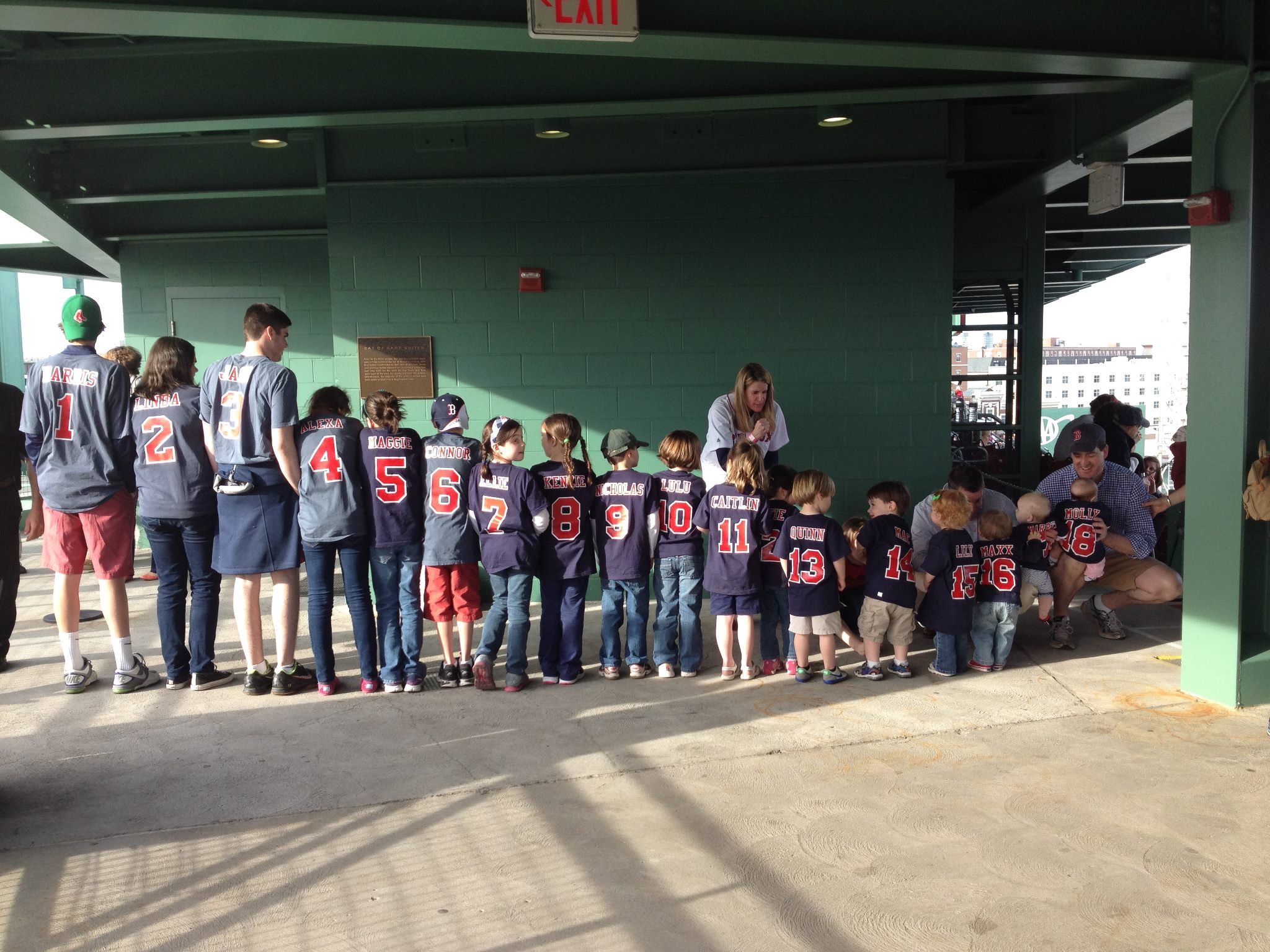 In the wake of his pitch, my grandfather is enjoying his new celebrity status. On Monday, they showed his highlights on The View. On ESPN's Pardon The Interruption, Tony Kornheiser and Michael Wilbon debated whether he deserved a second pitch (bless you for saying he did, Wilbon). The View and PTI in one day - never accuse Grampy of not hitting all the demos.

There were countless newspaper mentions of him across the country. His toss was shown on CNN. And Major League Baseball, recognizing a rising star when it sees one, asked him to return to Fenway Park on Tuesday to read a script that was recorded and will be used as a voiceover during the introduction to the MLB Network's national broadcast of the official Fenway Park 100 th anniversary celebration, this Friday afternoon when the Red Sox play the Yankees.

If you tune in to the game, this is some of what you'll hear him say: "This is the land of baseball. It is our game of inches, that covers miles...and spans generations."

And then: "One Park. One Hundred Years of Memories. Only in Boston."

Yep, that sounds about right to me.

Thanks, Grampy.

Austin O'Connor is a freelance journalist and a consulting producer and editor at aarp.org. He is the fourth of Bill Hogan Jr.'s 13 grandchildren.