Jeffrey Tambor and Jessica Walter, Reunited on 'Arrested Development'
When the new season of Arrested Development starts streaming on Netflix Sunday at midnight (PST), it won't just mark the return of a beloved sitcom most fans thought was gone for good. It also brings back a couple of talented comic actors - Jeffrey Tambor and Jessica Walter - in two of their best roles. They play George and Lucille Bluth, the oft-estranged oddball parents who spawned one of television's most hilariously dysfunctional clans.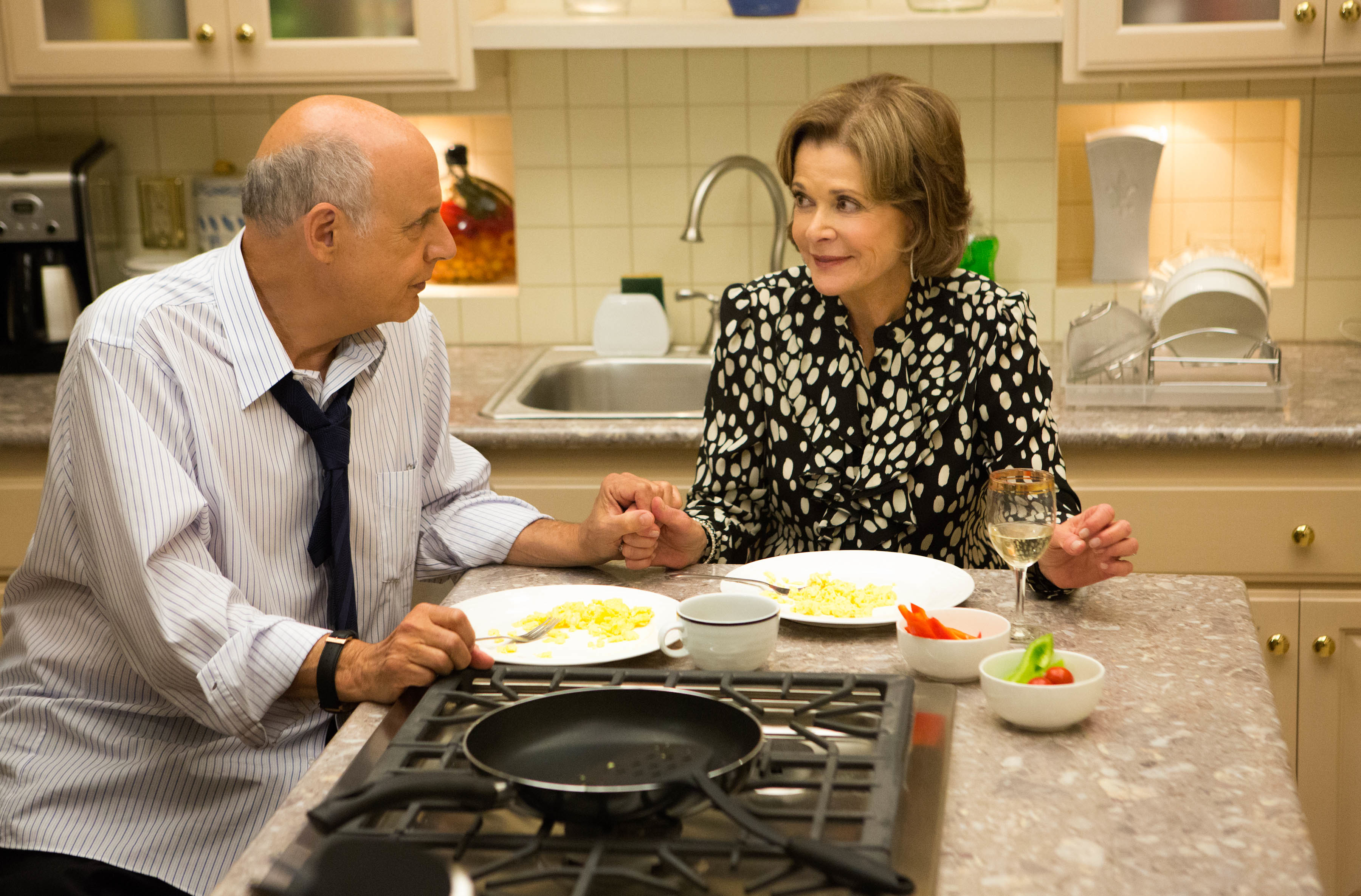 TV's recent past is littered with sitcoms that portray older people as caricatures - the senile, loopy grandma played by Cloris Leachman on Raising Hope, William Shatner's angry old guy at the center of the blissfully short-lived $#*! My Dad Says, even doddering Abe Simpson, bless his soul. But on Arrested Development, while George and Lucille are kooky, they're also full-bodied, layered characters, vital to the chaotic storylines that careen around and crash together.

"Older characters usually just come on, punch it up, and leave," says Tambor, 68, who plays not just George Bluth, but also his twin brother Oscar, both of whom have had romantic entanglements with Lucille. "We're there, with a full workload."

"Good TV parts for older actors are few and far between," agrees Walter, 72. "Older people on most TV series are: dad is a (jerk) and mom is a loud-mouthed fool. I don't think TV reflects how older people are important and valued in society."

They both say they were lucky to have landed together on Arrested Development - "we make a good team," says Walter - but their continued show biz vitality owes more to hard work and versatility than good fortune.

Walter currently gives voice to Malory Archer on FX's animated hit Archer and until recently had a starring role on TV Land's now-defunct Retired at 35. And between Arrested Development, a role as a TV news exec on the Amazon.com pilot Onion News Empire, a part in The Hangover Part III, a busy teaching and speaking schedule (his annual acting seminar at SXSW is one of the festival's most popular sessions), the indie bookstore he owns in L.A. and a vibrant Twitter presence ( @jeffreytambor), Tambor is as busy as he's ever been.

"One of the secrets of Jessica and I is that we're nimble," says the actor, who doesn't get much rest at home with four children under 8. "The work keeps me young. I've had the luck to have people around me, and inspiration around me, to be able to invent and reinvent myself."

AD has been off the air since 2006, but restarting its engine wasn't hard.

"It was a little bit surreal," Walter admits. "But once we were all together in that penthouse (set) that was recreated down to the nails on the wall, looking at the same faces and hearing the same old voices - it's like bike riding. You never forget."

"It's the right timing, the right property and the right engine," Tambor says of the revival on Netflix, which will make all 15 season four episodes available at once. "People are telling me they're going to miss work to watch all of it. I couldn't be happier."

Recently, a man stopped him in the airport. Tambor assumed he would be asked to pose for a picture. Instead, he asked for one favor: That he simply say George Bluth's famous line, "There's always money in the banana stand." Tambor happily obliged - and has since turned the quote into a tagline at speeches, like the commencement address he recently gave at Penn State Lehigh Valley.

"It is sort of an optimistic note. When George said it he meant it literally, but now I've sort of co-opted it - t o say there's always hope."