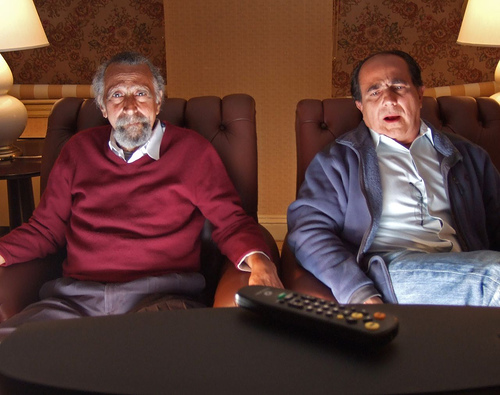 The following is a guest post from Steve Mencher, AARP multimedia editor.

The Car Guys are retiring from the weekly grind.

There was never any doubt: Car Talk isn't really a show about cars. It's Abbot and Costello, Burns and Allen for the public radio crowd. But here's the thing - they really do solve car problems and take their callers, who serve in the role of straight men (and women) seriously.

So why the huge success over the course of 35 years (10 years at local WBUR in Boston and 25 years distributed by NPR)? And why will listeners be sad in their cars driving around to errands on weekends without Tom and Ray Magliozzi? (The brothers announced Friday that they're ending production of their weekly show.)

They are regionally identifiable in a time when media is more and more homogenized:

Boston - a rough and tumble Boston of working stiffs, which may be as imaginary as "Car Talk Plaza" these days - is very much their home and touchstone. Their abrasive proud New England bray is much of the pleasure of hearing them.

They don't take themselves or public radio too seriously:

Their popularity coincides with the current Golden Age of public radio, which often provides the most comprehensive and smartest source of news. But along with that credibility sometime comes a bit of smugness and self-satisfaction. The "car guys" harbor no illusions about their role in that exalted universe. They don't pretend to be anything other than a slightly more rambunctious version of your jokey local mechanic (MIT degrees notwithstanding).

You might say they gave birth to both the silly game show simulacrum of "Wait Wait ...Don't Tell Me!" and the more expansive storytelling of Ira Glass and "This American Life."

They are the perfect companion in your car:

There you are, driving around to the grocery and the hardware story on the weekend, and, God forbid, worrying about your car. And there they are, without a care in the world, making the time disappear with their insane routines, puzzles, wacky if useful advice, and general insolence. Thanks, guys. We'll miss you. And happy birthday in a couple of weeks, Tom. You don't sound nearly 75.

What are your Car Talk memories? When did you start listening?

Photo: Car Talk hosts Tom and Ray Magliozzi, via Flickr user knobil.