Bob Dylan Recognized by Stuffy American Academy of Arts and Letters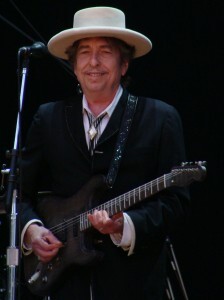 While the world was watching for white smoke from the Vatican chimney, the undisputed master of American songwriting in the post-Tin Pan Alley era was himself inducted into an exclusive club. Officials of the American Academy of Arts and Letters announced that Bob Dylan
had been elected, the first rocker to make the cut for a stuffy Academy that may be trying to remake its image. (In fact, as the Associated Press pointed out in its story about Dylan's election, "the academy once was designed to keep the likes of Dylan away, shunning everyone from jazz artists to modernist poets. Even now, the vast majority of the musicians come from the classical community, with exceptions including Stephen Sondheim and Ornette Coleman.")
Dylan has accepted the invitation ­ apparently, if you don't accept, they don't induct you, meaning that Groucho Marx wouldn't have stood a chance ­ but no word yet on whether he'll attend the Academy's April dinner or May induction ceremony (neither are required). But because the 71-year-old (he turns 72 in May) tours so frequently, even the Academy's executive director, Virginia Dajani, concedes that it's unlikely.
No matter. He's in, albeit as an "honorary member" ­ because, the Academy says, voters couldn't figure out how to categorize him (writer or musician?). That's perfect, of course, since Dylan has spent his entire career confounding people who've tried to categorize him. And it's not as if the Academy's "honorary members" are slouches: they include Yo-Yo Ma, Marty Scorsese, Meryl Streep, Woody Allen, and Twyla Tharp, among others. (What's wrong here? The Academy couldn't figure out how to categorize them, either? Let's see: Yo-Yo Ma is a musician, Twyla Tharp is a choreographer-how hard can this categorization stuff be?)
The Academy, according to its website, is "an honor society of 250 architects, composers, artists, and writers" whose members "are elected for life and pay no dues" (until Pope Benedict XVI, of course, the "elected for life" part was true of Popes as well). "The honor of election," the website intones, "is considered the highest formal recognition of artistic merit in the United States."
Join the discussion: If you could have front-row seats to any concert, who would it be? 
For more than 50 years now, Bob Dylan has needed no formal recognition of his artistic merit ­ although he's gotten it in spades, having gotten an honorary doctorate from Princeton more than 40 years ago; been named a Kennedy Center honoree in 1997; been included in the TIME magazine "100 Most Important People of the Century" in 1999; and won a Pulitzer Prize "special citation" in 2008. Just last year, he was awarded the Presidential Medal of Freedom ­ nearly half-a-century after, as a young man of 23, he wrote and recorded the brilliant " Chimes of Freedom."
But it has never been in the academy, or the Academy, where Dylan has most reverberated. His songs are not for them; they are for, as he himself wrote in that landmark 1964 song, "the warriors whose strength is not to fight the luckless, the abandoned, the foresaked-the misdemeanor outlaw, chased and cheated by pursuit" and perhaps-most fittingly, for "the poet and the painter far behind his rightful time." In this case, it was the American Academy of Arts and Letters that was far behind its rightful time in recognizing a poet ­and word-painter ­ who not only lived in his rightful time, but helped shape it in a way that no other songwriter ever has.
Photo credit: Getty Images