Bob Hoskins: A Likable British Tough Guy
By Patrick Kiger, April 30, 2014 04:19 PM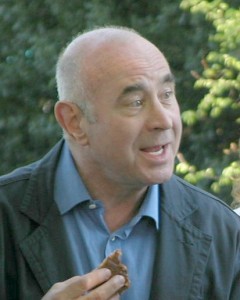 British actor Bob Hoskins was known to joke that if a film were to be made about him, Danny DeVito would be perfect for the role.

Indeed, at a roly-poly five feet six inches, with his bullet-shaped head crowned by a sparse widow's peak, Hoskins - who died on April 29 in England at age 71 - was hardly physically imposing, nor Hollywood handsome. "Not even my mum would call me pretty," he admitted in a 2009 interview.

>> Sign up for the AARP Health Newsletter

Nevertheless, like another vertically challenged actor, the great Jimmy Cagney, Hoskins dominated the movie screen, projecting an ambiance of tightly coiled menace. In films such as 1980's The Long Good Friday and 1986's Mona Lisa, he was the prototypical Cockney gangster, blunt spoken and quick to explode in brutal violence, but at the same time oddly insecure about his lower-class status.



But Hoskins' deft mix of roughness and vulnerability made him an oddly likable tough guy, and his versatility as an actor enabled him to parody a film noir private detective in the offbeat 1998 comedy hit Who Framed Roger Rabbit , where he shared the screen with animated characters.



>> Get travel discounts with your AARP Member Advantages.

Here are some facts about Hoskins and his remarkable 30-year career:



Hoskins left school at 15 and worked as a porter and truck driver before taking up acting at age 26, when he accompanied a friend to an acting audition and was asked to read for a part in the production.
As a young actor, Hoskins tried to broaden his emotional range by studying women, in particular how they greeted one another in the street. "I thought if I could capture some of that expression, that depth of emotion, it will make me interesting to watch as an actor," he once explained.
Perhaps Hoskins' most challenging acting feat came at the end of The Long Good Friday, when the camera focused on his face for what seemed like an eternity, to show his range of emotions as he realized he was being driven to his own execution. Hoskins later recalled that when director John Makenzie explained the shot to him, his reaction was, "You're [expletive] joking, ain't you?"
Hoskins was nominated for an Academy Award for Best Actor for his portrayal of a tormented ex-con who chauffeured a high-priced call girl in Mona Lisa.
Hoskins had another acting challenge, in Roger Rabbit, where he had to do scenes by himself because the animated characters were to be added later. He prepared by playing with his young daughter, who liked to pretend that she had an invisible friend named Jeffrey.
His last role was in Snow White and the Huntsman (2012).
Though he was sometimes mistaken for Devito, Hoskins actually was six inches taller.


Photo: James Laurence Stewart via Wikipedia



Also of Interest



See the AARP home page for deals, savings tips, trivia and more