'Springsteen & I': A Love Letter to The Boss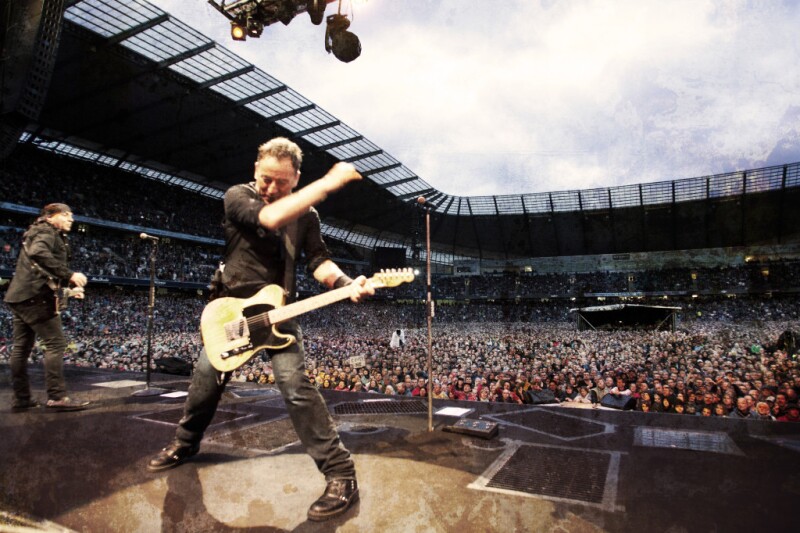 I suppose it goes without saying that your level of enjoyment of the new documentary Springsteen & I, which premiered Monday night in movie theaters and screens again in select cities on July 30, will be in direct correlation to your proximity to New Jersey and/or your ability to recite all the lyrics to "Rosalita." As I fall into that category of fist-pumping fans who have attended dozens of Bruce Springsteen concerts, I had a great time watching it.
But it may be that this is a movie only for die-hards. It's a quirky little film, at turns charming and creepy but ultimately redeeming, about people who are extremely devoted to the 63-year-old rock star. The user-generated documentary, a production of Ridley Scott's RSA Films, consists entirely of clips of the singer's fans who filmed themselves talking about Springsteen and what his songs have meant to them. Their confessionals have been cut down by director Baillie Walsh and interspersed with concert footage from Springsteen's five-decade career.
Some of the testimonials are quite moving. I loved the British factory worker who told of saving up for a trip with his wife to New York to see Springsteen on his E Street Band Reunion tour in 2000, then found himself upgraded by roadies from nosebleed seats to the front row of Madison Square Garden. One poor sap talks of holding up his "I Just Got Dumped" sign at a concert and having Springsteen invite him onstage to hug out his heartbreak. Another couple explains their shared love of his music, even though they've never had the money to spare to attend a Springsteen show. As they dance together in their tiny kitchen to "Radio Nowhere," Walsh cuts to a shot of Springsteen performing the song to an arena filled with thousands of fans. It's a nice moment, one that displays how, for his fans, a Springsteen song can be both intimate and enormous at once.
But there are missteps. Some of the glorified YouTube videos seem to straddle the line between fan and stalker. One woman who sits far too close to her webcam gushes so rapturously about Springsteen's effects on her you wonder if a restraining order might be required. Another guy talking about Springsteen while driving his car suddenly breaks down in tears. Thankfully, the uncomfortable moments are mostly confined to the start of the film, and as it moves along it gains a nice momentum.
Springsteen & I may be most interesting as a look at the psychology of fandom, and why people become so devoted to a particular performer. It's certainly an illustration of that phenomenon, and the crowd-sourced film swirls to a satisfying conclusion with a round of personal thank-yous to The Boss delivered by fans of all genders, races and ages, from toddlers to seniors. After that, a montage of "Born to Run" performances takes Springsteen from the rising star of the early 1970s to the rock 'n' roll elder statesman of today. "Your music has become a part of the story of me," says one girl who wasn't even born when Born in the U.S.A. hit record stores in 1984. If you're nodding your head in agreement, you should probably go see Springsteen & I.
If you do, be sure to stay past the credits for a treat: Six songs performed by Springsteen before a gigantic crowd at the 2012 Hard Rock Calling Festival in London. After all the grainy, self-shot footage, the spectacle of the concert - which includes two duets with Paul McCartney - is breathtaking. And it's followed by a short epilogue when Bruce meets a few fans featured in the film. Even the biggest Springsteen hater might be converted to one of the faithful.
Find showtimes and buy tickets for the July 30 screenings of Springsteen & I. A DVD release is expected in the fall.
Photos Courtesy Arts Alliance Media
Join AARP: Savings, resources and news for your well-being
See the AARP home page for deals, savings tips, trivia and more