'Dallas' Gives J.R., and Hagman, a Proper Sendoff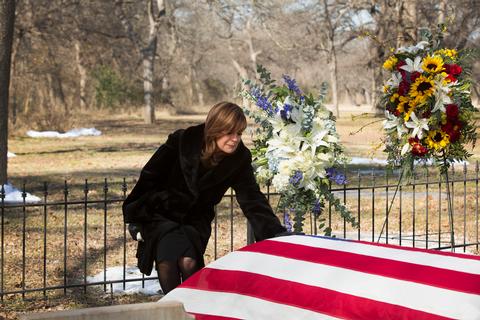 They're giving the devil his due Monday night - J.R. Ewing, played to perfection since 1978 by Larry Hagman, will be buried. The episode airing at 9 p.m. ET on TNT, will not disappoint.

Not only have new Dallas creator Cynthia Cidre and her writing team given the iconic character a memorable farewell for the actor who died last November (it will make you cry), they've used the occasion to break out a batch of new storylines. Foremost among them, as you already know if you saw last week's show, is: Who shot J.R.? I just love that they went there, don't you?

The funeral episode brings back Ewing family members we haven't seen in a while, as well as the boozing, fighting, romance and shocking revelation we've come to expect from Dallas, old or new. As Linda Gray told us a few weeks ago, her dear friend Larry would have adored being the center of all this attention.

And Hagman is very much still front and center on the set. Steven Weber - the former Wings star who is newly aboard as Governor McConaughey, soon to be conspiring to take down the Ewing family - tells us Hagman's dressing room remains locked."Nobody has been in it. His name is still on the call sheet, 'on hold.' They have a very sweet, sweet relationship with the man, even though he's gone. I ask them all the time to tell stories, and there is so much love there. It's not maudlin, but positive stuff, with great humor and affection."

Weber is shooting his fourth episode in the post-J.R. Dallas. He sees a good future for Dallas, despite the loss of Hagman. "I think it's sustainable without his physical presence. But his spiritual presence is still there in the shows."

If you're a Weber fan you will want to know he also stars in an upcoming Hallmark Channel movie as an advertising whiz who gets pushed out of his job due to ageism, and winds up hiring a young con man to front for him. It's called Tom Dick & Harriet and airs March 16.