'Dallas' J.R. Farewell 'Bittersweet' Says Linda Gray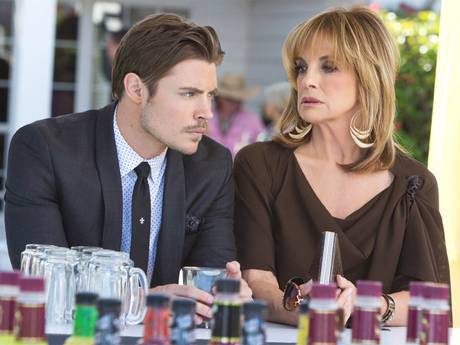 "Yes, he's physically gone. But I know he's pulling strings wherever he is, keeping us all on our toes."

That's the word from Linda Gray, speaking of Larry Hagman, who departed this world in November but is still the center of attention. TNT's Dallas launches its second season tomorrow night (1/28), and even though the actor only filmed five episodes before his death, his influence is all-pervasive. Show runner Cynthia Cidre has let it be known that his dastardly J.R. Ewing will not die of natural causes, so a murder mystery lies ahead for viewers - as well as the already much-talked-about J.R. funeral in the season's eighth episode in March.

"I'm hoping TNT will make it more than an hour episode, that they'll expend time and treasure on it, because to me, it's so beautiful, I think people will want to see every single moment. I think the fans want the closure," Gray told AARP.org. "They want to grieve, they want to mourn."

Shooting the event - which includes a more light-hearted sharing of memories at Dallas' Petroleum Club as well as the private family funeral - was "bittersweet," she said. "Larry would have loved it. It's all about him! That's what his life was about. We knew it, he knew it. I just giggled and thought, 'Oh boy. Here we go.' "

Former Dallas denizens including Ted Shackelford, Charlene Tilton, Ken Kercheval and Steve Kanaly are part of the farewell proceedings.

But what happens after everyone says goodbye to J.R. - the star and heart and soul of Dallas? Is there still a series? Gray and other cast members insist the answer is yes. "I love the show," she said. "It's very odd, and yet, Larry would say the same thing: the show must go on."

Her Sue Ellen Ewing, now a political player, will continue to be "a force to be reckoned with. Oh, honey. Sue Ellen is involved! We never close the door on her. I'm sitting here with show No. 10 on my kitchen counter and I'm fascinated by what these writers have in store. It always goes back to the writers, and this particular team, they have some kind of magic. They really 'get' the show."

Sue Ellen has certainly made her Texas-sized mistakes in the past, but we find the former beauty queen character a sexy, dynamic and poised septuagenarian. "I think she is a role model for a lot of people," Gray acknowledged. "It had nothing to do with me; the writers wrote this and they continue to do so."

Of course, Sue Ellen is also the devoted mother of J.R.'s son, John Ross - played exquisitely by Josh Henderson - who was going over to the dark side with venom and vengeance at the end of season 1, his heart broken by the lovely Elena (Jordana Brewster), who is back with his cousin, Christopher (Jesse Metcalfe). The cousins will be fighting for control of Ewing Energies as the season unspools.

For Gray herself, who has been divorced since '83 and has a grown son and daughter, life is going on in a pleasant way. "We're living in condos in Dallas. My cat's with me. He's hanging out with me in Texas, and thank God for Skype - I have face time with my kids and my grandkids. You know, all is well. To be a female working in this industry at my age is a gift. And I'm aware of that every second."