'Downton's' Season 3 Brings Later in Life Love, Match-up of Matriarchs and More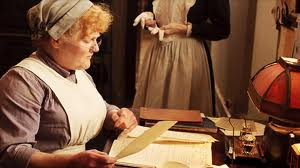 "Downton Abbey's" third season rolls out Sunday (Jan. 6) with a fresh batch of episodes that, judging by the first five, are as savory and delicious as ever. Yes, Shirley MacLaine is aboard as rich, social climbing New Yorker Martha Levinson, mother of Lady Grantham (Elizabeth McGovern). And, yes, her scenes with Dame Maggie Smith as Dowager Countess Violet Crawley are all fans heard and hoped they would be -- a new defining moment in the Anglo American special relationship, class versus crass with sneering and sniping, two Oscar-winning greats in a match-up of the matriarchs. You can almost feel Violet's flesh crawl in the presence of this awful woman.

The Crawleys have been plunged into deep financial trouble in Season 3 - so deep, they're even going so far as to seek help from Mrs. Levinson, proving that even they can be driven to unseemly acts by money woes.

"I think that's why the show touches people, actually, because it has a relevance even though it is a whole different era. The business of having your security taken away -- everybody's been facing that in one way or another," pointed out Lesley Nicol, a.k.a. Mrs. Patmore, "Downton's" redoubtable cook, in a chat with AARP.org.

Nicol has one of my personal favorite Season 3 storylines: there's romance in the wind for Mrs. P. "You have to wait a little bit for that one, but I put in a request with (show creator) Julian Fellowes quite some time ago," she told us. "I said, 'Wouldn't it be fun?' because there's a perception that women over a certain age aren't going to be susceptible to flattery or attention and of course that's not true. You are 'til you drop, I think. It would be interesting to see what would happen, and I thought there might be some comic potential as well."

For Nicol herself, true love didn't come along 'til later in life. At 59, she's been married for six years to a martial artist and spiritual healer named Da'aboth. "That's right. It's made me more aware of how many women there are in the world who don't find that right person, and get to a point where they don't feel that's going to happen," said the actress. Of course, she - and Mrs. Patmore - are here to tell them that's not necessarily so. "It's so nice to meet somebody later on, it's great."

" Downton Abbey" being "Downton Abbey," naturally there are lots more stories with which to become involved, from a stunning death in the Crawley family and its aftermath, to former valet John Bates' (Brendan Coyle) tough life in prison as his beloved Anna (Joanne Froggatt) tries to clear him of his conviction for the murder of his first wife.

The team goes back to work in February to begin shooting Season 4. Are they thinking there is an ending to it all on the horizon? Or will "Downton" go on and on?

"All I know is, they are doing 4, and there was a discussion about 5, but we'll never know until next year whether that will go through," Nicol said. "I don't think it will go on for years and years. Because it's popular, it's tricky, I suppose, knowing when is the right time to stop it."

In other words, "Downton" fans should enjoy the ride while we can.