'How to Live With Your Parents': Boomer Humor Abounds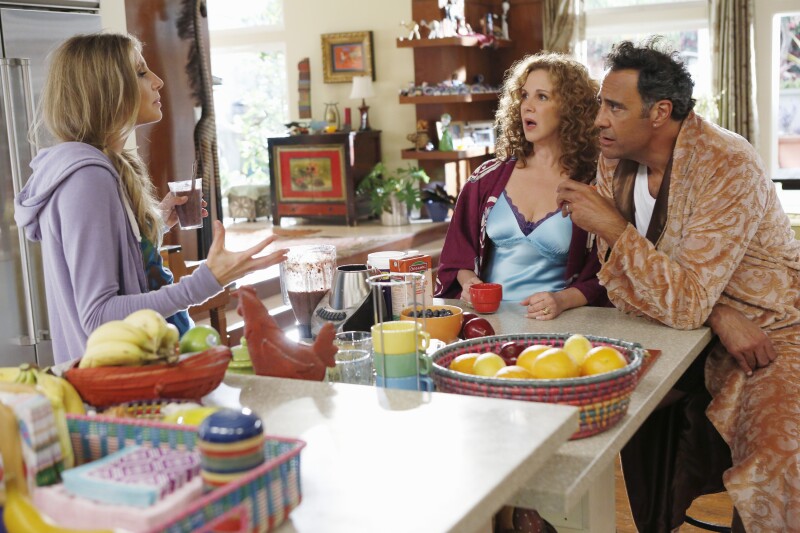 How to Live with Your Parents (For the Rest of Your Life) sports a title (and a mouthful of one at that) that speaks directly to many boomers whose adult children have moved back home. Premiering tonight at 9:30 p.m. on ABC in the plum post- Modern Family time slot, the new sitcom bursts out of the gate with more than a few belly laughs. It's funny enough to make you hope it can find an audience during its spring run so that it can stick around and get even better.

The show's main selling point is its first-rate cast, a likable, talented group of sitcom vets led by Sarah Chalke ( Roseanne, Scrubs) as Polly, a recently single mom who, along with her young daughter, moves in with mom and stepdad following her divorce. "I'm not a failure," she points out to one of her co-workers at a Whole Foods-esque market. "I'm trendy."

Mom and Dad are played by Elizabeth Perkins and Brad Garrett, who are no strangers to successful TV shows themselves. Perkins had a long-running role on Showtime's Weeds, and Garrett has bounced around in middling sitcoms ever since his career-defining role as the brother-in-law on Everybody Loves Raymond. The show gives mom and dad the usual sitcom quirks, but at least they're funny ones: Garrett, in fine gravelly voiced form, is an exercise nut who refuses to wear workout clothes, choosing instead to go jogging wearing a cashmere sweater and khakis, while Perkins is a boozy broad with no ability to censor herself and no shortage of self-regard. "I'm so delightful!" she shouts at one point during the premiere.

HTLWYPFTROYL (the acronym doesn't really help much, does it?) certainly isn't the first sitcom to capitalize on intergenerational cohabitation - that's been a sitcom staple since Archie and Meathead were butting heads - but it's a nice twist on the genre and could settle in to form a fun new-age family sitcom pairing alongside Modern Family. The current show it most closely resembles may be Fox's wonderful New Girl, with Chalke in the Zooey Deschanel role as its funny, appealing center and Garrett and Perkins as her comic relief roomies, in this case offering sometimes surprisingly cutting boomer humor. "Kids are boring," Perkins says to Garrett during a chaotic night of babysitting their granddaughter. "We're the fascinating ones."