Janis Joplin - Alive, Well and Performing Nightly in D.C.
By Steve Mencher, October 17, 2012 03:44 PM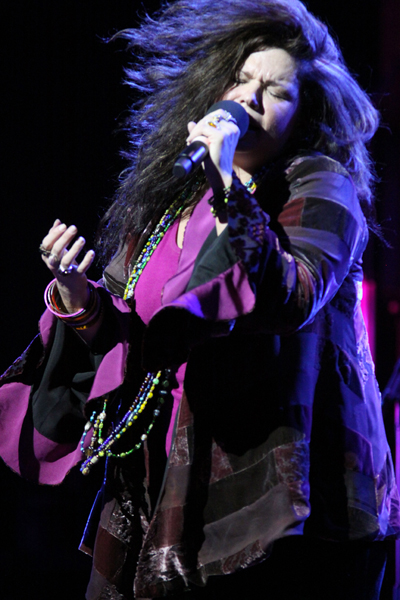 Well, OK - it's not really Janis. But Mary Bridget Davies is putting on a helluva show every night at Washington's Arena Stage in One Night with Janis Joplin, giving those who saw the real thing - and those who are far too young - a chance to hang out with a legend. The show is more like a concert, with few bits of tension and little dramatic development. The demons that killed the singer in 1970 at age 27 seem mostly banished for a night, and that seems just fine with the wildly enthusiastic crowds.

"It really is 'a night with Janis Joplin,' Davies says. "If she were alive in some magical place and time at 27 years old, telling everybody how she came to be, if she were on stage doing a performance with her friends, she wouldn't be shooting up, she wouldn't be smoking cigarettes on stage, she wouldn't be boozing heavily.

"There are still emotional hills and valleys. I still get to rip the Band-Aid off and show everybody there's a wounded lonely girl under there. It was almost a direct result of her other love, which was music. She couldn't have them both - have a love life and confidante - and be this big star."

The show returns to this theme again and again - that the music came first, and made it nearly impossible for Janis to have other relationships. The show's other big theme is Janis's musical style and how it came from the blues, soul and jazz. Sabrina Elayne Carten plays and sings these influences, from Bessie Smith to Nina Simone - that helped form Janis. As Aretha Franklin, Carten provides the engine for an Act One closing number that brings down the house.

But whatever else happens on stage during One Night with Janis Joplin, it's Davies's dead-on impersonation of Janis's voice and spirit that animates the evening.

"I do see some seriously emotional people in the crowd at certain points - genuinely upset - or genuinely nostalgic. I saw a guy in tears during 'Piece of my Heart' - I started singing and it just washed over his face, and he just started crying - with the biggest smile on his face. Being able to provide people with that key to the past - your youth when you were fast and fearless and nothing could stop you - and you can enjoy those parts of you - I think that's the part of the show that allows everybody to take something away."

Photo by Janet Macoska

Below - Mary Bridget Davies performs with Janis's band - Big Brother and the Holding Company.