Laura Linney's 'Big C' Prepares to Say Goodbye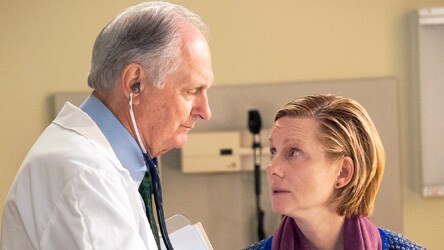 For the past three seasons of Showtime's The Big C, Laura Linney's cancer-stricken character, Cathy Jamison, has gone through three stages of grief - denial, anger, bargaining. In the season that launches April 29, subtitled "Here after," Cathy will reach the stage of acceptance. This is a different kind of a season - with four two-hour episodes they're calling a "limited series event."
Fans of the under-appreciated series will not be surprised that despite these ominous signs, there is a lot of humor in store. Still, it won't be an easy ride. Alan Alda, who plays Cathy's oncologist, recalled filming those last episodes: "As they got closer to the end of the series, they were really facing the hard realities." He stressed, "That's what you want to do if you're an artist. You don't want to just glide over them. I realize it's a tough subject, but when you're dealing with a tough subject in art, you want to be as tough as possible."
Besides Alda, guest stars in these final episodes include Brian Dennehy, who is playing the father of Cathy and her bipolar brother, Sean (John Benjamin Hickey). Kathy Najimy is present as Cathy's therapist, and designer Isaac Mizrahi is playing a version of himself who takes Gabourey Sidibe's character under wing and provides light moments.
However things end with Cathy - and I'm not going to predict, because this series has given us unexpected turns in the past - there is no question that the show itself will soon be over. But it just might find an afterlife in the realm of DVR and DVD. After all, as Linney herself has stated, it will be helpful to some; for others it will be just too painful.
Also of Interest

Join AARP: Savings, resources and news for your well-being
See the AARP home page for deals, savings tips, trivia and more