Mary McDonnell: 'Major Crimes' Has Kicks for 'Closer' Fans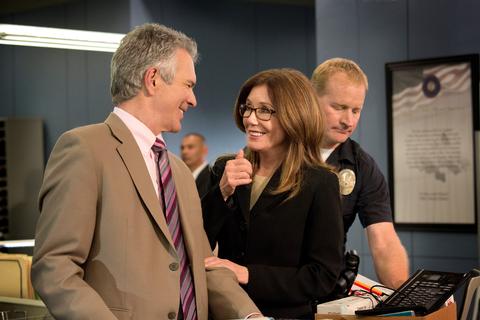 Now that the baton has been passed from "The Closer" to "Major Crimes," will the new show maintain good momentum, or fade as the weeks go by? If we are to believe star Mary McDonnell, it will run its own race with lots of kicks ahead for fans.

We caught up with the esteemed actress as she was basking in the afterglow of having completed production of her series' first 10 episodes. She was dying to share them, she said, to the point she claimed she had "'Spoiler Alert' taped all over my body.'

"It's thrilling, what starts to happen over the course of the 10 episodes," declared Mary, whose straight arrow police Captain, Sharon Raydor, is now in charge of the LAPD Major Crimes unit/family-of-sorts that she used to dislike. "It will be so delightful for fans of 'The Closer,' what we find out about these beloved characters they have spent seven years with, because of the way she runs the office, the way she is a boss, the way that they have to start to work together."

As for Captain Raydor, "All the way through the 10 episodes, this woman has surprised me, revealed things to me and made me chuckle," Mary said.

"We find out about her passion on a very profound level. And we understand what deep respect she has for what we used to call 'The Rules.' It's rooted in her understanding of the Constitution and democracy and the way it works, and how to respect making a democracy work -- and part of that is how do you make a police department work."

When anti-heroes have pretty much become the norm on TV and in films, Captain Raydor's respectful virtues are a change of pace.

"That is exactly right," agreed Mary. "And a nice part of what we're doing here is beginning to explore, for a change, what is it like to see ourselves in a person who is actually trying to do the right thing? You know, there are many of us who are trying to do the right thing all over the word -- and we are quirky, and we are eccentric and we make mistakes and we have dramatic lives. I mean, you don't have to be a total renegade to be interesting."

Perhaps. She deflected questions about ratings and whether the drop-off between "The Closer's" finale and "Major Crimes'" launch was within expectations. The show also lost 1.78 million viewers between its first and second week -- something analysts predicted, given the event nature of the back-to-back "Closer" finale and "Major Crimes" debut. (If you missed an episode, TNT offers them here.)

"I have my own thoughts about it, but I don't really discuss those things because I'm not a producer," she replied.

She doesn't at all mind discussing the tantalizing idea of Kyra Sedgwick returning to the "Major Crimes" scene as a very special guest star.

"I would love it! I kind of get goose bumps as to how much fun it would be. I really miss working with her. All of my scenes on 'The Closer' were with her. We worked together really well," Mary enthused. "Don't you think it would be hilarious? We would have so much fun. The fans would go nuts. If you're looking for a numbers night? There it is."